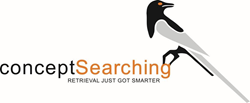 We are finding that organizations need to understand the realistic and practical approaches to making knowledgeable and educated choices on their technology investments.
McLean, VA, US and Stevenage, UK (PRWEB) September 29, 2014
Concept Searching, currently the only vendor providing natively integrated enterprise-wide information metadata driven governance solutions for SharePoint on-premise, Office 365, and OneDrive for Business, is pleased to announce registration is now open for the 'Change Your Search to Find – SharePoint and Office 365' webinar, to be held on Tuesday, October 28th, 11:30am-12:30pm EDT.
Enterprise search, once a hot topic, now faces new challenges with the adoption of Office 365 hybrid and stand-alone cloud environments. In SharePoint and Office 365, search isn't equal and before adopting Office 365 organizations need to know as much as they can about how to avert potential challenges and pitfalls. Even in a SharePoint stand-alone environment, the consumption of content is forcing a renewed look at security, information lifecycle management, and non-compliance.
This webinar will address the new Microsoft announcements, including DLP for Office 365, Delve, and Office Graph, and the impact they will have on organizations. Trends in enterprise search and feedback from SharePoint organizations will provide the audience with an understanding of the disjointed search market today. Organizational challenges such as security, records, and compliance are issues faced in both a stand-alone and hybrid environment, and consequent considerations and approaches will be shared with attendees.
In addition to search, functions such as managing content and migration are also forcing the re-evaluation of current practices, and the deployment of new processes to address the burgeoning organizational consumption of content. OneDrive for Business will be explored and recommendations made on how to manage it and address the new challenges it has introduced to cloud content management. Client case studies and lessons learned in SharePoint, Office 365, and hybrid environments will also be shared.
"Organizations are being inundated with vendor recommendations on what they should or should not do, whether they have a SharePoint stand-alone, hybrid, or cloud environment. This webinar separates the facts from the fiction," said Martin Garland, President of Concept Searching. "We are finding that organizations need to understand the realistic and practical approaches to making knowledgeable and educated choices on their technology investments. We have received quite a bit of positive feedback on our educational webinars, which are informative and discuss pertinent challenges and benefits that will influence the outcome of technology decisions."
To see a detailed webinar agenda, click here. To register for the webinar, click here. Interested attendees are requested to register early. Those unable to attend can still register and will receive links to the recorded webinar and presentation.
About Concept Searching
Concept Searching is the industry leader specializing in semantic metadata generation, auto-classification, and taxonomy management. Platform agnostic, Concept Searching also has a Microsoft Gold Application Development competency, and offers a complete suite of SharePoint and Office 365 solutions. The award winning technologies integrated with Concept Searching's Smart Content Framework™ encompass the entire portfolio of unstructured information assets in on-premise, cloud, or hybrid environments. Clients have deployed the intelligent metadata enabled solutions to improve search, records management, identification and protection of privacy data, migration, text analytics, eDiscovery, and enterprise social networking applications.
Concept Searching is headquartered in the US, with offices in the UK, Canada, and South Africa. For more information about Concept Searching's solutions and technologies visit http://www.conceptsearching.com and follow on Twitter and LinkedIn.
All product and company names herein may be trademarks of their respective owners.