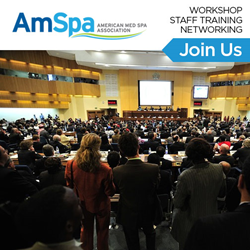 The addition of staff training to the much-needed updates on medical spa law will make this, we believe, the most unique and valuable program in the industry.
Chicago, IL (PRWEB) September 24, 2014
AmSpa being committed to providing the most comprehensive and relevant training needed within the aesthetic and med spa industry, in partnership with their partnered state specific health law attorney's with extensive experience in representing med spas, will present on the specific rules and regulations affecting aesthetic practices. Some of the topics that will be covered will be: who can own a med spa, how much physician supervision is required, which medical professionals can inject Botox, OSHA and HIPAA compliance within a medical spa setting, concerns regarding social media, and how to properly use non-competition agreements.
Successful business, marketing practices and revenue generation will also be included in the program. An expert panel of speakers, enthusiastic to educate participants on the business of aesthetics will address the anatomy of a successful medical spa, marketing and branding of a medical spa or aesthetic practice, increasing cash flow by using key factors to increase the average sale, best practices in a corporate structure, website and social media instruction, reducing expenses that are "cash suckers", how to "bundle" and make the most of a a bottom line, tax reduction and much more.
"We are thrilled to be hosting this event with our partnered health care attorneys," said Alex Thiersch, Founder and Director of AmSpa. "These industry-focused educational events are genuinely needed, both to educate professionals on the legal landscape and to share tips on how to be successful."
One highlight of the workshop will be a roundtable of successful med spa owners entitled "The Secrets of My Success." This exclusive session will allow attendees to hear from some of the most successful med spa and laser center owners on exactly how they built their practice.
There will also be time for attendees to ask pertinent questions about their med spa practice, and have direct interaction with attorneys and other health care professionals about the issues affecting the med spa industry.
A consistent compliant heard by AmSpa is the lack of formal instruction available for support staff. In answer to that, a parallel session providing hands-on instruction to med spa support staff on issues like answering the phone, selling skincare products and procedures, and treating clients professionally to help increase a medical spa's revenues. The participants will run through role-playing sessions involving phone calls, difficult clients, and product sales. This dual format - designed so that both owners and staff can attend - is the first of its kind in the industry.
Attendees will receive the CME monograph "Risk Management for the Practicing Physician", an enduring material certified nationally for 5.5 category 1 CME hours.
Immediately following the one day program is a two hour networking reception. Attendees will have a chance to meet with their colleagues, brain storm with other industry professionals and have one on one time with presenters and exhibitors. Breakfast, lunch, and beverages & appetizers during the reception are provided as well as wonderful raffle items which were donated by some of the exhibitors.
"We're very excited to offer this workshop," said Gina Meyer-Shaffer, Director of Marketing. "The addition of staff training to the much-needed updates on medical spa law will make this, we believe, the most unique and valuable program in the industry."
Tickets for the program cost $189; AmSpa members receive a $30 discount. Included in the price is the networking reception. For more information call (312) 981-0993 or click HERE.