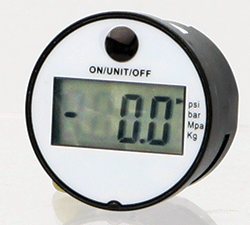 Vernon Hills, IL (PRWEB) September 24, 2014
The versatile new Cole-Parmer® High-Accuracy Miniature Digital Gauge is an easy choice for those needing a compact yet reliable pressure gauge. The gauge is economical yet offers readings in four units of measurement.
Use digital gauges for measuring the air pressure of compressor and pneumatic regulators, filtration, and laboratory vacuums. The gauge is also used in aviation and defense, marine and diving, and general OEM applications which use air or compatible gases and for which brass is suitable.
Press a single button to operate the digital pressure gauge. It contains brass center back-mount process connections and a four-digit LCD. Read measurements in psi, bar, mPa, and kg/cm2. Preserve battery life with five-minute auto power-off.
Select from three styles. Go to ColeParmer.com/21221 or call 800-323-4340 for more information.
Cole-Parmer has been a leading global source of laboratory and industrial fluid handling products, instrumentation, equipment, and supplies since 1955. Our product lines, including popular brand names such as Masterflex®, Oakton®, Digi-Sense™ and more, are sold through company-owned customer channel outlets and a strong network of international dealers. We also feature an ISO-17025-accredited metrology lab for instrument calibration and repair. Cole-Parmer responds with excellence to customer needs, and offers application expertise and technical support. For more information, contact Cole-Parmer, 625 East Bunker Court, Vernon Hills, IL 60061. In the US, call 800-323-4340. International customers, call 847-549-7600. Visit us at http://www.ColeParmer.com