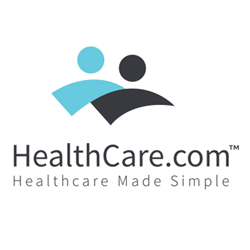 We are the 'Kayak' for health insurance shopping, offering a new consumer-focused solution that makes researching and buying health insurance easier.
Miami Fl. (PRWEB) October 07, 2014
HealthCare.com recently announced the launch of its new health insurance comparison website, jumping into the marketplace just weeks before Obamacare open enrollment begins for 2015. It is the most accessible website for health insurance shopping, and features over 94,000 plans from nearly 200 insurance carriers that consumers can choose from.
HealthCare.com anticipates the second year of open enrollment, which begins November 15, could prove to be bigger than last year's inaugural event. It estimates around 12 million Americans will apply for health coverage for the first time, or change the current coverage they have because of rising monthly premiums costs.
"We are the "Kayak" for health insurance shopping, offering a new consumer-focused solution that makes researching and buying health insurance easier," said Jeff Smedsrud, Chief Executive Officer of HealthCare.com. "We watched, listened and learned over the last year to what U.S. consumers want from a healthcare website, and modeled our tools and resources based on that demand," said Smedsrud.
HealthCare.com shopping advantages include a tax subsidy calculator that allows individuals to estimate how much financial aid they could receive from the government, a tax penalty calculator, which estimates how much additional tax individuals would pay if they decide not to buy health insurance, and a plan recommendation tool that generates insurance quotes based on the customer's most important attributes in a health plan: price, network or lifestyle need.
HealthCare.com is the only site on the market that lets consumers choose how they want to apply for insurance – either online, over the phone with a licensed representative, or across the kitchen table with a local insurance agent.
"We understand enrolling in a healthcare plan is not an easy process, and we strive to educate individuals, provide the most choices in the marketplace, and place control back in the hands of the consumer. Consumers could save $1,000 or more by spending 10 minutes or less comparing plans. Everyone should review the plan they have with the hundreds of other choices in the marketplace. It costs nothing to shop," added Smedsrud.
About HealthCare.com
Since 2006, HealthCare.com, a privately-held technology company, has been committed to improving online healthcare for U.S. consumers making purchasing decisions. Our goal is to help consumers easily research information and compare health insurance quotes from nearly 200 health insurance carriers using interactive tools and an intuitive search interface. We offer trusted recommendations and a comparison shopping experience to simplify decision-making, allowing consumers to find the right health insurance plan that fits their lifestyle. To provide customers a first-rate user experience, our technology uses proprietary algorithms and data to advocate the best and most affordable insurance options. We also offer free online calculators and shopping tools to make healthcare buying easier and more efficient. With over 1 million visitors each month, we partner and integrate with industry-leading health insurance companies to help consumers enroll into plans. All of HealthCare.com's leading technology, tools and services are free to consumers. For more information, visit http://www.healthcare.com.