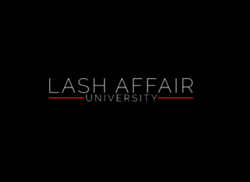 Lash Affair Artists are able to work with ease and precision confident they are backed by a reputable brand.
Norwich, CT (PRWEB) September 30, 2014
With accolades like the Most Inspirational Lash Artist of 2014 and a slot in Lash Masters II, Hilaree Brand of My Brand Lashes is a leader of lash who possesses the knowledge of the craft and, more importantly, the ability to teach. She leads with a passion for lashing and is backed by solid credentials and a great reputation.
With a background in Cosmetology that spans 11 years, Hilaree is professionally licensed as a Master of Aesthetics and as an Instructor. She has operated two of her own spas, one in Utah and currently one in Las Vegas, while travelling the world showing other Lash Artists what she does best and guiding them to do the same as they develop their own unique talents.
Hilaree Brand's method has proven itself time and again. Most recently, 3 of her former students placed in the Lash Wars Competition at the International Beauty Conference Las Vegas in June 2014. She offers ongoing support as the art of lash and brow extensions is ever-evolving. Hilaree's students have more to offer clients and are able to grow their business substantially with the techniques learned from her certifications. Many of her students go on to be trainers themselves. A Lash Artist who obtains a certification from Hilaree Brand is truly making an investment in themselves as well as their business. To register for a certification, go to http://www.LashAffairUniversity.com.
Lash Affair by J. Paris is led by Jenelle Paris another professionally certified, industry veteran with over 13 years of experience. Once a spa owner herself, she is a bonafide beauty expert with career highlights that include local accomplishments of being voted one of the best spas in MA and doing a cover for Improper Bostonian Magazine. Jenelle has also gained national appraise having worked on projects with Playboy and Vera Wang.
Not only does Jenelle have an eye for beauty, she has a taste for the exceptional. Her vision for Lash Affair by J. Paris is to provide Lash Artists with thoroughly researched, cutting-edge lash and brow products through a premium, luxury brand. At reasonable prices, Lash Affair by J. Paris products never compromise quality, and even more so, are the absolute best the industry has to offer. Lash Affair Artists are able to work with ease and precision confident they are backed by a reputable brand. To shop products, go to http://www.LashAffair.com.
Hilaree Brand and Jenelle Paris have put their hearts and minds together doubling the research into Lash Affair by J. Paris products and University certifications, and in doing so, have made an unparalleled partnership the industry has never seen before. These ladies both know that collaboration is key and they have a lot in store for the advancement of the lash industry. Stay tuned…
About Lash Affair
Lash Affair was created by a Lash Artist for all Lash Artists. Jenelle Paris, the founder, is a licensed Esthetician and Lash Extensionist with 10 plus years of experience.
Her love of the beauty industry coupled with a passion for the exceptional is why Lash Affair prides themselves on supplying the utmost quality Bonds and Lashes.
Contact Details:
Jenelle Paris
Lash Affair Store
130 Vergason Ave.
Norwich, CT 06360
Facebook: https://www.facebook.com/lashaffairbyjp
Instagram: http://instagram.com/lashaffairbyjp
Phone: 1.800.608.2420
Source: Lash Affair Store