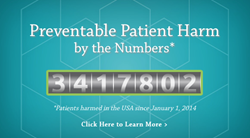 Webinar presenters are top Synensis executives who will discuss ways to reduce preventable harm, save live, and save money.
ATLANTA (PRWEB) September 24, 2014
Synensis, a leading provider of patient safety tools and training, announced that it will host four webinars in the fourth quarter, each designed to help hospitals create healthier organizations and achieve healthier outcomes. Webinar presenters are top Synensis executives who will discuss ways to manage and lead change, strategies for converting management teams into patient safety experts, how to apply the power of storytelling in the clinical setting, and leadership practices that will reduce preventable patient harm.
Upcoming webinars, which are 60 minutes in length, are:
3 Secrets for Igniting Your Team's Ability to Lead and Manage Change
1 p.m. Eastern, Thursday, October 9
Presented by Julie Gapstur, Senior Consultant, who will discuss how to engage teams in the management and leadership of change. Gapstur will outline successful management techniques and will supply attendees with proven strategies for getting teams fired-up and ready to lead and manage change.
5 Strategies for Converting Your Managers into Patient Safety Experts
2 p.m. Eastern, Thursday, October 23
Presented by Stephen Powell, Chief Executive Officer and President, an internationally known expert in patient safety and TeamSTEPPS. Powell will discuss how to convert hospital management teams into safety proponents and experts, and share his experiences with effective management transformation techniques that can accelerate the impact of patient-centered care.
4 Little-Known Storytelling Principles Used by Effective Leaders
2 p.m. Thursday, November 20
Presented by Richard Stone, Chief Innovation Officer, a nationally known expert on storytelling. Stone will show how to use storytelling as a way to reinforce and accelerate learning. He will present his compelling and entertaining take on the power of storytelling and the transformative effect it can have on patient safety and clinical performance.
5 Evidence-Based Leadership Practices That Can Reduce Harm in Your Hospital
2 p.m. Eastern, Thursday, December 8
Powell will present his second webinar of the quarter when he provides attendees with leadership practices that can be implemented immediately to improve HCAHPS scores, reduce preventable harm, save lives, and save money.
To register for any of these webinars, visit the Synensis website at http://www.synensishealth.com/
About Synensis
Synensis was formed to create healthier organizations, improve the quality of healthcare around the world, and help save thousands of lives each year. The company provides the tools, knowledge, coaching, and training to make every member of the healthcare team more effective. Synensis works with clients to help them transform healthcare systems to become safer places for patients and more satisfying workplaces for those who care for them.