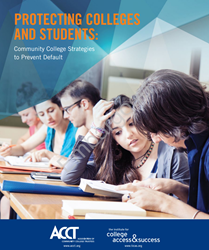 Default rates are inherently limited, because they only look at the outcomes of borrowers entering repayment, and the vast majority of community college students don't borrow. We are still--by far--the most affordable sector of higher education.
Washington, D.C. (PRWEB) September 24, 2014
The Association of Community College Trustees (ACCT) has reviewed with great interest and concern new data released today by the U.S. Department of Education (ED) analyzing the number of borrowers from institutions of higher education that are in default. The three-year cohort default rate (CDR) for FY 2011 among community colleges is 20.6 percent. The new federal data reflect a decrease from the prior FY 2010 rate, which was 20.9 percent for community colleges. High CDRs can lead to colleges losing eligibility to provide federal grants and loans to students. However, no community colleges are subject to sanction at this time. Community college CDRs should be interpreted with great caution given low rates of borrowing.
"Default rates are inherently limited, because they only look at the outcomes of borrowers entering repayment, and the vast majority of community college students don't borrow. We are still--by far--the most affordable sector of higher education," said J. Noah Brown, president and CEO of ACCT. "At the same time, community colleges are concerned about student loan default and are already actively working to help students be successful in repaying their loans."
Community colleges have the lowest rate of federal loan borrowing across all sectors of higher education; overall, just 17 percent of community college students take out federal loans versus 56 percent of students in all other sectors of higher education.[i] As such, defaults often reflect a very small percentage of the student population, and are a lagging indicator of students who entered repayment several years prior. Community colleges serve 42 percent of all undergraduates in the nation.
When paired with ACCT's report in partnership with The Institute for College Access and Success (TICAS), published in July 2014, Protecting Colleges and Students, the national data underscore the report's recommendations to improve federal policy and regulations regarding CDRs. Default rates have been increasing nationwide, and some community colleges have stopped offering federal loans out of fear of federal sanction.
"Student loans are vital to the academic persistence and success of many of our students who can't afford the climbing cost of college out-of-pocket" said Jee Hang Lee, vice president for public policy and external relations of ACCT. "Even though most of our students don't borrow in any given year, more than a third of those who complete their associate degrees at community colleges need loans to get to graduation. But CDRs give our members great pause about their ability to continue offering critical access to loans without reform to the system. As the primary lender, the federal government needs to step in to help students with loan repayment."
ACCT has long called on ED to thoroughly examine the data on the numerous loan servicing issues experienced by students, and especially before making decisions to end institutional Title IV eligibility. As such, ACCT appreciates the announcement to adjust CDRs based on borrowers with multiple lenders or servicers, known as "split servicing," when borrower have at least one loan in good standing. It is improper to sanction colleges based on faulty data and defaults that are largely outside of institutional control. ACCT calls on ED to assist these struggling borrowers through all available means.
Furthermore, ACCT continues to call for reforms to the loan servicing system in order to improve repayment. "Community college leaders have heard from students, institutions, and even ED itself that servicers routinely fail to provide adequate assistance to struggling borrowers," said Lee. Borrowers should be given access to a single federal login and repayment portal. Severely delinquent borrowers should be automatically enrolled in income-based repayment plans, and a special servicer should be created to provide additional assistance to students with delinquent or defaulted loans.
ACCT has made numerous recommendations for the pending reauthorization of the Higher Education Act to reduce delinquency and default, such as consumer-testing and redesigning loan entrance and exit counseling, and providing institutions the authority to limit over-borrowing.
ACCT has also called for replacing default rates with a metric known as the Student Default Risk Index, or SDRI, which would multiply the CDR by the institution's borrowing rate. At colleges where borrowing is less common-often due to low tuition-this calculation would provide improved context to the average risk of default, rather than making faulty comparisons based only on a small subset of students. Similarly, appeals and challenges under the Participation Rate Index should be permitted annually, rather than only at the point of sanction, to encourage colleges with low borrowing to remain the federal loan program.
ACCT's public policy experts are available to discuss these and other concerns related to cohort default rates and viable recommendations for improving existing federal policy and regulations.
For more background about cohort default rates and to download a copy of ACCT's recent report, Protecting Colleges and Students, please visit http://www.acct.org/cohort-default-rates.
###
________________________________________
[i] U.S. Department of Education, National Center for Education Statistics, 2011-12 National Postsecondary Student Aid Study (NPSAS:12). Computation by PowerStats, September 2014.
ABOUT ACCT
Founded in 1972, the Association of Community College Trustees (ACCT) is the nonprofit educational organization of governing boards, representing more than 6,500 elected and appointed trustees of community, technical, and junior colleges in the United States and beyond. ACCT's purpose is to strengthen the capacity of community, technical, and junior colleges and to foster the realization of their missions through effective board leadership at local, state, and national levels. For more information, visit http://www.acct.org. Follow ACCT on Twitter at http://www.twitter.com/CCTrustees.
# # #