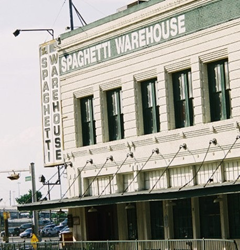 Houston, TX (PRWEB) September 24, 2014
Discover Houston Tours has brought its Ghost Walks back to the Downtown Historic District for a 15th year. These 90-minute guided strolls feature spooky urban legends and scary true tales of deceased Houstonians. They have become a fun and informative way for families and friends to celebrate the season, visit historic sites and perhaps even stay overnight in a nearby hotel.
"The first tourists this year were from out of town – Louisiana and Mississippi," said Sandra Lord, owner of Discover Houston Tours. "They all came to Houston on a staycation to hear about the ghosts. The weekend was a surprise for the male member of one group and an excuse to catch up with old friends for the other. They all enjoyed learning about Houston history."
This year's ghostly guides, Phil Stewart and Dot Honeycutt, tell the first story outside the Spaghetti Warehouse, where folks learn how a pharmacist took a fatal fall down an elevator shaft, resulting in the death of his wife from shock.
As groups walk along Buffalo Bayou, the guides point out the Milam Street Bridge where "The Confederate Submarine" mysteriously blew up at the end of the Civil War. A few years later, when the bayou's water was low, two young men were tempted to explore the ship's surface. They located an unexploded bomb and took it home. As they tried to diffuse the bomb, it blew up, killing both men.
The Brewery Tap is home to William, the ghost of a man who worked at the Houston Ice & Brewing Company during Prohibition. Even though he was killed when beer barrels fell over on him, his mischievous spirit still haunts the bar. The ghostly guides tell the story of how William saved the life of a barmaid one night as tourists turn on their EMF meters to see if William is present.
The fourth stop is in front of the Donnellan Crypt, a grave dug into the side of Buffalo Bayou back in the 1840s. Hear how the remains of the two young men who died from the Confederate Submarine's bomb came to be buried there.
The last story is based on a book, "Texian Macabre," about Houston's first hanging, in 1838. Stephen Hardin, currently a history professor at McMurry University, based his book on the diary of young John Hunter Herndon, who came to Houston in January 1838 to see if he could make a life here. Less than 20 years later, Herndon was the richest man in Texas.
The tour ends on the site of Houston's first hotel, built in 1837, where Herndon deposited two skulls and a set of brains.
"We have such a varied audience every year," says Lord. "My favorites are the ones who dress up and get into the Halloween spirit. One year, we had a group of about eight friends who showed up on the Halloween tour as a Publishers Clearing House Awards crew. They made a large check and one man even carried a mock TV camera. They acted out the awards at the Brewery Tap. It was so good I put it on YouTube." See Lord's video at https://www.youtube.com/watch?v=k_hEt_J379k.
While the Ghost Walks are not paranormal tours, walkers are encouraged to bring EMF meters and cameras to see what they can find along the way. Each participant also receives a copy of Sandra Lord's "Short Guide to the Paranormal."
Ghost Walks 2014 take place at 7 p.m. and 9 p.m. every Friday and Saturday night through Nov. 1. Each tour can accommodate up to 30 people. Advance paid reservations are required but, if folks want to try to come at the last minute, they are advised to bring exact cash.
Tickets are now on sale for $15/person at http://www.DiscoverHoustonTours.com. Sales usually start off slow in September, remarked Sandra Lord, but, based on past experience, they sell out quickly in October.
The Spaghetti Warehouse is offering a 10 percent discount off their meals to registered participants. Just show the waiter the reservation when ordering.
Registration begins inside the Spaghetti Warehouse, 901 Commerce Street, at 6:45 p.m. and 8:45 p.m. Tourists are advised to arrive early as tours start promptly on time.
There is free parking downtown after 6 p.m. and paid parking in adjacent parking lots. Ghost Walks are also available for private groups.
For more information, visit http://www.discoverhoustontours.com.
About the company:
In 1988, Discover Houston Tours introduced daily guided walking tours to Houston. To date, Discover Houston Tours has conducted 5,000 tours for 61,000 visitors from around the world. Join Discover Houston Tours and find out why Texas means friendly. Tour groups will finish their Houston tours with a new-found love and appreciation for Houston's unique style and way of life, and will be perfectly situated to further explore everything Houston has to offer. Discover Houston Tours' offices are located at 8181 Fannin St., Suite 2218, in Houston, Texas 77054. For more information, call 713-222-9255 or visit http://www.discoverhoustontours.com/.