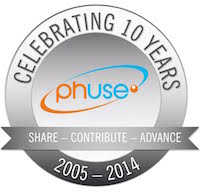 "The acceptance of CDISC standards is firmly embedded throughout the industry now"
Brussels, Belgium (PRWEB UK) 25 September 2014
As a global CRO specialising in CDISC data solutions, BDLS is proud to be a platinum sponsor at the PhUSE 10th anniversary conference to be held in London next month.
With 10 technical CDISC presentations to be delivered across a range of conference streams, BLDS staff will be sharing our experience, insights and knowledge of the rapidly evolving data standards landscape.
Alongside the presentations, BDLS will be conducting an interactive CDISC SDTM & ADaM workshop on behalf of PhUSE. This will be the third year that BDLS have run workshops at the conference, and pre-conference interest is high.
"The acceptance of CDISC standards is firmly embedded throughout the industry now," commented Peter Van Reusel, BDLS' COO, "but the rate of change means that it is a real challenge for everyone to keep up-to-date with the latest developments and releases. BDLS see this as part of our core mission and services to our clients."
At PhUSE, more than 140 papers and posters will be presented, with BDLS delivering presentations on:

"ADaM Conversions: The Good, The Bad and The Ugly" Carla Santillan & Jessica Minkue
"Creating a Personal View on the Data via Using a Virtual Private Database" Sébastien Roland & Bart Van Win
"ADaM Standards: What's New?" Gavin Winpenny
"How the Release of the Therapeutic Area Asthma User Guide Affects an Ongoing Submission" Nick De Donder
"Handling non-Standardised Questionnaires" Anne Sophie Bekx
"Your Clinical Data Standards Library Ready for Change? Adapting to TA Specific Standards" Lauren Shinaberry
"Manage Your SAS Drug Development Environment" Bart Van Win & Sébastien Roland
"Small Sample Bayesian Factor Analysis" Dirk Heerwegh
"Why Don't you Define it?" Nick De Donder & Anne-Sophie Bekx
"FDA Guidance on Standardised Study Data for Electronic Submissions" Lauren Shinaberry
"PhUSE has become a phenomenal global success that has encouraged co-operation and commitment across the industry. This year's theme of Data Transparency underlines the forces that will shape the next five years in pharma," said Van Reusel. "BDLS has been a supporter of PhUSE from its inception, and I'm delighted we are platinum sponsors for the 10th anniversary event, as well as sponsoring the opening evening event.
"BDLS is actively involved CDISC data standards around the world, and we regularly present at conferences and events. The dynamic changes that are taking place in the industry means that companies need to focus on standards and their management. Our CDmation platform is helping both pharma companies and CROs save time and money in dealing with multiple changing data standards. We're excited to be able to share our experiences at this event."
About Business & Decisions Life Sciences
Business & Decision Life Sciences is part of the Business & Decision Group, an international consulting and Systems Integration company founded in 1992 and listed on the Eurolist C exchange.
Business & Decision Life Sciences is specialized in the delivery of services and provision of solutions in the Life Sciences industry. With 20 years of experience, it supports its clients in the pharmaceutical, medical device, biotechnology, food and cosmetics industries.
Core skills include the provision of a range of expert CRO and consulting services (supporting clinical trials in the operational, data management, analytical, outcome research, and document writing area) and the implementation of technology-based, clinical applications and solutions tailored for the Life Sciences industry.
Business & Decision Life Sciences headquarters are located in Brussels, Belgium and has a strong international presence in five countries in North America and Europe. Further information is available at http://www.businessdecision-lifesciences.com/.
About CDmation
CDmation is a fully automated, CDISC compliant, clinical data standards platform and study metadata repository solution adapted to your needs. CDmation is developed in an audited and certified Quality Management System under the Software Development Life Cycle (SDLC) procedures that are required for any system that operates in a regulated environment.
The CDmation platform comprises a single user interface with 5 functional areas, enabling you to:

Significantly increase the control over the definition of standards library
Faster adoption of new CDISC standards
Decrease study specification cycle times
Ensure consistency of study definitions within projects and across compounds
Improve the overall quality of clinical data
Reduce delays running up to regulatory submissions
Define study metadata for electronic data capturing (EDC) and towards your Contract Research Organization (CRO)
Validate data and produce issue reports based on automated comparisons between data received from the CRO and your study design
Further information is available at http://www.cdmation.com
About PhUSE
PhUSE, Share – Contribute – Advance, provides the industry with the premier platform for creating and sharing ideas, tools and standards around data, statistical and reporting technologies; PhUSE is the world's largest non-profit, volunteer-supported, community of professionals who are passionate about advancement of clinical-biometric information. Since its inception, PhUSE has expanded from its roots as a conference for European Statistical Programmers, to a global platform for the discussion of topics encompassing the work of Clinical Data Scientists and eClinical IT professionals.
The 10th PhUSE annual conference will take place October 12th to 15th at The Grange Tower Bridge Hotel in London. Visit http://www.phuse.eu/ annual-conference.aspx for further information and for registration.