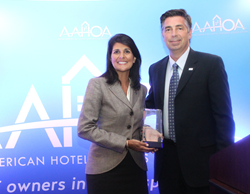 (PRWEB) September 24, 2014
The Asian American Hotel Owners Association (AAHOA) today announced that South Carolina Gov. Nikki Haley received its prestigious Friend of the Hotelier award at the AAHOA National Advocacy Conference.
Since Gov. Haley entered office in 2011, the South Carolina Department of Commerce has given bonuses to project managers who bring new businesses to rural areas. This measure has created thousands of jobs in the state's 46 counties, leading her to formally invite all hoteliers to come to South Carolina and add their property to the booming economy.
"Gov. Haley's leadership has attracted new businesses to South Carolina, and these businesses are encouraged to hire state residents and to do business with other small businesses in South Carolina," said AAHOA Chairman Pratik Patel. "She is a champion for the small business owner, hoteliers and the American dream, and we are honored to call her a friend of AAHOA."
The Friend of the Hotelier award is given to public officials and community leaders who demonstrate extraordinary and persistent support of issues that serve to promote the hospitality industry and positively impact small business owners.
Founded in 1989, AAHOA is the largest hotel owners association in the world, with more than 12,500 small business owner-members. AAHOA members own more than 20,000 properties amounting to more than 40 percent of all hotels in the United States and employ nearly 600,000 workers, accounting for over $9.4 billion in payroll annually.