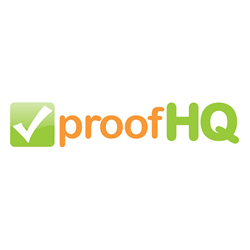 Dallas, Texas (PRWEB) September 24, 2014
ProofHQ, the global leader in online proofing with over 2,200 clients representing the best brands and agencies in the world, has expanded its management team as the company accelerates its growth plans for 2015 and beyond.
"As brands and marketing agencies increasingly realize the importance and benefit of streamlining the review and approval of content and creative assets, there is an enormous opportunity for us to expand our market share and offer our software and services to a larger number of creative professionals," said Mat Atkinson, CEO of ProofHQ.
To ensure ProofHQ continues to deliver on the company's strategic objectives and goals, ProofHQ has hired two experienced sales and marketing professionals:
Daren Tomey, Vice President of Sales - Daren is responsible for leading, coaching, and mentoring a sales team focused on the global revenue responsibilities at ProofHQ, including direct and indirect channels. For 20 years, he has specialized in growth strategies, sales execution, and sales mentoring with high growth SaaS companies.
Shawn Herring, Vice President of Marketing - Shawn is responsible for building the overarching marketing vision and driving the operation of marketing initiatives. His objectives will be building the brand while delivering significant top line growth to the organization and ensuring positive ROI is achieved. Shawn has extensive experience helping SaaS-based companies of all sizes drive growth at a global scale.
"I'm excited to have experienced leaders such as Daren and Shawn joining the company," said Atkinson. "I look forward to leveraging their professional skills along with their experience of successfully growing companies to help lead the next level of growth and innovation at ProofHQ."
About ProofHQ
ProofHQ is an online proofing tool used by brands and agencies worldwide. It streamlines the review and approval of content and creative assets so that marketing projects are completed faster and with less effort. ProofHQ replaces email and hard copy processes, giving review teams tools to collaboratively review creative content, and marketing project managers tools to track reviews in progress. ProofHQ can be used across all media including print, digital and audiovisual. For more information, please visit http://www.proofhq.com.