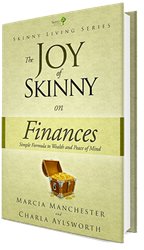 "When you're skinny with money, the only thing that gets fat is your bank account."
San Diego, California (PRWEB) September 25, 2014
The Joy of Skinny on Finances is a no-nonsense, simple-to-follow formula to wealth and peace of mind for those who want to stop worrying and wondering about money and start choosing and creating the life they desire.
By connecting the idea of "skinniness" to financial freedom, authors Marcia Manchester and Charla Aylsworth make losing your excess financial "weight" feel just as exhilarating as dropping those unwanted pounds!
Many people are finding that, despite having more material wealth than ever before, they are achieving less happiness and peace in their lives. How can that be?
States Ayslworth,"Everything that we spend today is money out of our pocket tomorrow. Credit spends the same as cash. It's easy to do but hard to pay back. Dragging all that weight of yesterday forward is exhausting and produces a state of diminishing returns. We have to work twice or three times as hard just to stay even!"
"The Joy of Skinny: On Finances" promises to uncover the common triggers for the kind of emotional spending that often drives people into debt, while teaching the importance of remaining "skinny" when it comes to personal finances.
"When you're skinny with money, the only thing that gets fat is your bank account," according to Manchester.
"The Joy of Skinny: On Finances" is an easy-to-read, uniquely produced guide that provides tools, exercises and relevant case studies to assist the reader in:

How to take control of your money so it doesn't control you
Making smarter buying decisions without feeling deprived
Simultaneously create wealth and peace of mind
Discover how words have a direct impact on how a person manages money
Bursting with wit and warmth, this Amazon Best-seller makes reclaiming your financial independence a positive-and even joyful-experience. You can reach your monetary goals, and this no-nonsense guide can help you do it!
Readers can get the book on Amazon at http://www.amazon.com/Joy-Skinny-Finances-Living-ebook/dp/B00LCDW8KY
Praise:
"Marcia Manchester and Charla Aylsworth have created the next "Weight Watcher" movement with The Joy of Skinny. Only this time, the weight loss has more to do with our perceptions, our choices, and the social pressure of our time to wear Prada. To quote the authors, living skinny is "…an exhilarating way to live, and it's wonderful to drop all the weight that worry, wishing, waiting, wondering and want carry." It's a diet worth going on for all the right reasons because in the end, our life is more than what we have…its true value is in who we are and the legacy we leave. Therein lies our true wealth."
~ Candace Conradi, Author, Speaker and Coach
"The Joy of Skinny on Finance is filled with light bulb moments and more emotionally accessible than Rich Dad Poor Dad and The Millionaire Next Door. I recommend this book for people of all ages and money experience."
~ Steven Spierer hosts the Steven Spierer Show on Saturday's 10am PST/ 1pm EST. Husband, Father, Real Estate and Business Attorney, Entrepreneur, Investor and Business Advisor
"The Joy of Skinny is an insightful and brilliant little book. Just brilliant!"
~ Gail Feldman, Radio Host "Feldman Friday's" and Real Estate expert in San Diego
Information on obtaining the print book and eBook version available here: http://www.skinnylivingproject.com/
About The Skinny Living Project:
Skinny is a point of view. It's shedding the weight of what no longer serves and reclaiming a future of possibility normally held by the young. How wonderful to be able to access all that zest without leaving home or becoming someone you're not. There isn't a big enough advertising budget in the world that can deliver on that promise. Only you can do that and best of all . . . it's free.
Our mission with the Skinny Living Project is to help restore sanity and remind us that nothing that really counts is beyond our control. Life is supposed to be filled with ups and downs just as an inhale is followed by an exhale to make room for our next breath. To view life through a compare and contrast paradigm invites a frustrated discontent that reduces our capacity to be our best self and leaves us vulnerable to all sorts of undesirable emotions and outcomes.
If more isn't working, isn't it time to try less?
To Learn more about authors Marcia Manchester and Charla Aylsworth, please visit http://www.skinnylivingproject.com
Media Contact:
Authors(at)SkinnyLivingProject(dot)com