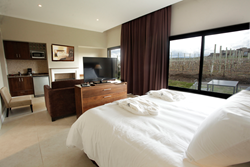 Rubio introduced the RCA as a worry-free, no-hassle way to own real estate in all three locations.
(PRWEB) September 25, 2014
Ensconced within a private 2.8 hectare vineyard, behind the gates of the Tupungato Winelands, sits the dramatic Auberge du Vin Hotel. This spectacular location at the foot of the Andes in breathtaking Uco Valley is just outside the city of Mendoza. As the world's first wine country club, Tupungato Winelands blends private vineyards, polo, golf, and spa treatments to create an unforgettable experience for all Auberge du Vin guests. The boutique hotel is the third hotel to join the Residence Club of Argentina's property portfolio, and is set to open its doors October 15, 2014.
Designed for natural living, the 29-room Auberge du Vin Hotel is in harmony with its surroundings while providing complete luxury. Guest rooms are designed in a stylish manner, with comfort and convenience in mind. All suites include flat-screen televisions, complimentary Wi-Fi, spacious bathrooms, in-room safes, individual climate control, and fully equipped kitchenettes. Prior to arrival, guests can have kitchenettes fully provisioned with their favorite foods and beverages, saving them time to do the things they love. This luxury hotel also offers indoor/outdoor pool, gym, and sauna.
Prior to, during and after a day full of recreation, wine tastings, and adventure, Auberge du Vin guests are treated to the culinary delights at its 5-star restaurant Epic. Here, Chef Martin Erkekdjian blends international cuisine with regional inspiration in an unforgettable vineyard setting. His menu presents unique creations that are notable for top quality, carefully selected local ingredients. Chef Erkekdjian is an Argentinean who has been tutored by world-renown chefs such as Alex Atala, Pierre Gagnaire, Thomas Keller, Marcus Samuelson, and Fernando Trocca.
The Residence Club of Argentina's other properties include Palermo Tower in Buenos Aires' trendiest district of Palermo, as well as the new Arelauquen Lodge in Bariloche, located just 15 minutes away from South America's largest ski resort, Cerro Catedral. Prior to becoming a hotel developer and operator, Grupo EMR CEO Edward Rubio traveled the world as a financial services executive. "I always admired Argentina for its incredible diverse landscape, kind people, and stunning beauty," he said. "I knew from the beginning I wanted to offer guests and RCA members the opportunity to see 'the Big 3' during their Argentine vacation (Buenos Aires, Bariloche, and Mendoza), as they each offer a unique experience, yet are easily accessible from one another. I think I have found the perfect combination of opportunity."
Rubio introduced the RCA as a worry-free, no-hassle way to own real estate in all three locations. He teamed up with DCP International, which pioneered the luxury residence club concept, to create the RCA. The Club's members have an equity interest in suites within each of the three RCA properties and are offered a minimum of six-weeks vacation at the hotels, subject only to use by other members. Residence of Argentina owners are also members of Elite Alliance (http://www.EliteAlliance.com), an exclusive vacation exchange offering travel options in dozens of other luxury property clubs in world-class destinations across the globe.
"The only thing our Club members have to worry about is where to go next," Rubio said.