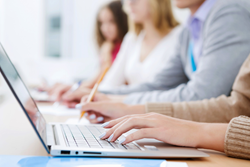 We see our clients using V-Person as a smart solution to quickly automate manual processes that would have taken months to program using traditional development tools.
Stamford, CT (PRWEB) September 30, 2014
A leading software company is now live with Creative Virtual's V-Person self-serve technology, which will help to resolve activation issues online. Creative Virtual is a leader in customer experience self-service solutions for global enterprises.
The system checks customer information, validity of license requests and issues users activation codes. Where applicable, the solution submits trouble tickets to the CRM system for users who are unable to obtain new software activation codes online. By leveraging back-end integration capabilities, the Creative Virtual solution now handles more than 65% of the trouble ticket volumes, previously handled by live resources.
V-Person is conversational middleware that combines natural language, business logic and integration of data from external systems to enable customers to self-serve in seconds, replacing a manual process that previously took days to complete.
"We see our clients using V-Person as a smart solution to quickly automate manual processes that would have taken months to program using traditional development tools," Richard Simons, CEO of Creative Virtual USA said.
Creative Virtual's knowledge management system V-Portal™ has a graphical decision tree editor (decision support tool similar to Visio) that allows these business processes to be created and revised quickly, based on testing and evolving business requirements. Using the built-in python scripting language, V-Portal can easily integrate to external systems.
By using V-Person technology to automate processes such as this, organizations can enable their customers to self-serve instantly instead of requiring interaction with a live resource, via phone call or chat.
Creative Virtual offers solutions that enable customers to talk, type and tap to get consistent personalized answers to help users self-serve in any channel. V-Person offers a multi-modal interface with speech-to-text natural language processing built in. V-Portal, our knowledge management system provides a combination of structures for products/services/channels, natural language tools, graphical decision tree editor, integration tools, release management, workflow and also offers real-time Voice-of-the-Customer reporting.
About Creative Virtual
Creative Virtual is a leader in self-service customer experience management solutions for enterprises. Global organizations like HSBC, Verizon, CA Technologies, E*TRADE, Lloyds Banking Group, Renault and National Rail Enquiries rely on our technology to optimize their customer support, sales, marketing and call center teams, reduce costs, increase online sales, and achieve operational excellence across mobile, web, and social media channels. Since 2004, Creative Virtual has built the most advanced technologies in knowledge management, natural language processing, and virtual assistants to help businesses deliver intelligent, personalized customer experiences that reduces email and call volume, builds brand loyalty, and increases customer engagement at a lower cost per conversation. Delivering accuracy of over 90%, our platform is the most compelling self-service product in the world today. For more information about Creative Virtual solutions, products and software, please visit our website at http://www.creativevirtual.com.