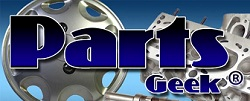 (PRWEB) September 25, 2014
Parts Geek, a leading online auto parts retailer, is pleased to announce that they have expanded their windshield wiper blade inventory to feature over 147,700 products. Fall 2014 is here, and the professionals at Parts Geek know that many people will be getting their vehicles ready for the winter storms. Therefore, those looking for other auto parts and accessories—such as cabin air filters and brakes—that should be checked before the winter months will also find that they have thousands of these products available on their website.
Windshield wiper blades should be checked every few months for wear and tear as the harsher the weather is, the more often they will need to be replaced. So, those looking for affordable and high-quality wiper blades from some of the top brands in the industry such as Bosch, Denso, Original Equipment and Genuine will be pleased with Parts Geek's vast inventory. Additionally, Parts Geek offers windshield wiper blades for 55 auto makes that includes Toyota, Nissan, Cadillac, and much more. Last but not least, if a customer is looking to find wiper blades for a specific model vehicle, all he or she needs to do is pick the make of their vehicle and then narrow it down to the model.
Parts Geek strives to make it easy for their customers to find high-quality auto parts fast, and they also work hard to ensure that they receive them as soon as possible with fast shipping. With over 530 reviews on their website in regards to their wiper blades, customers can rest assured that they are receiving top-of-the-line products from a reputable company.
To see Parts Geek's complete inventory of wiper blades and to learn more about this leading online auto parts retailer, please visit their website today.
About the Company:
At Parts Geek, they offer the best and most competitive prices on imported and domestic car parts. They also offer automobile accessories, and many of their items ship quickly—all from warehouses scattered throughout the US. Customers can pick from thousands—if not millions, of new automotive parts, refurbished/rebuilt parts, and more from reliable and certified manufacturers. To learn more please visit http://www.partsgeek.com.