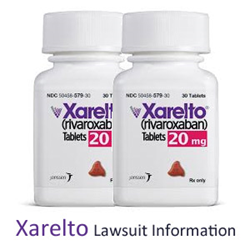 If you believe you have suffered internal bleeding due to Xarelto contact the attorneys at Wright & Schulte LLC For a Free legal consult buy calling 1-800-399-0795 or visit www.yourlegalhelp.com or call
Columbus, OH (PRWEB) September 28, 2014
Wright & Schulte LLC has learned that a Xarelto bleeding lawsuit complaint was filed on behalf of a California woman who alleges that she suffered life-threatening bleeding as a result of taking the blood thinner medication. According to the Xarelto complaint, the 79-year-old woman began taking Xarelto in April 2012 and used the blood thinner through October 2013. The Xarelto lawsuit alleges the major bleeding event occurred on August 31, 2012 and the woman sustained severe and permanent personal injuries, pain, suffering and emotional distress. The Xarelto complaint purports that defendants Janssen Pharmaceuticals and Bayer Healthcare failed to warn emergency room doctors and other medical professionals as well as disclose to patients that there is no effective agent to reverse the anticoagulation effects of Xarelto, and therefore there is no effective means to treat and stabilize patients who experience uncontrolled bleeding while taking Xarelto. The lawsuit was filed in the U.S. District Court, Eastern District of New York (1:14-cv-05133)
The attorneys at Wright & Schulte continue to investigate claims of uncontrolled bleeding due to Xarelto and offer free legal claims to men and women who believe they have experienced bleeding side-effects from Xarelto and other anticoagulant drugs by calling 1-800-399-0795 or by visiting http://www.yourlegalhelp.com for information on this and other medication news.
The California woman's lawsuit further purports that the defendants knew or had reason to know that their blood thinner was defective and unsafe. The complaint contends that in marketing the drug, the defendants overstated the effectiveness of Xarelto. The Xarelto bleeding lawsuits complaints further contends that as a result of the defendants "aggressive marketing efforts," Xarelto earned $658 million sales nationwide in 2012 and reached "blockbuster" status in 2013 with $2 billion in sales in fiscal year 2013. (1:14-cv-05133)
The U.S. Food & Drug Administration first approved Xarelto in July 2011 to reduce deep vein thrombosis and pulmonary embolism in patients who had knee or hip replacement surgery. The FDA expanded approval of Xarelto in November 2011 to treat deep vein thrombosis. One year later, the federal agency approved Xarelto to treat and prevent recurrence of deep vein thrombosis and pulmonary embolism and to reduce the risk of the conditions recurring following initial treatment. In August 2013, the FDA issued a black box warning, the agency's most serious warning, that patients who abruptly stop using Xarelto without replacing it with another blood thinner are at an increased risk of stroke. The FDA also warned that epidural or spinal hematomas (a mass of clotted blood that forms in a tissue, organ or other spaces in the body due to a broken blood vessel) occurred in patients taking Xarelto who were receiving anesthesia or undergoing spinal puncture. The hematomas could result in long-term or permanent paralysis.
[fda.gov/newsevents/newsroom/pressannouncements/ucm326654.htm, November 2, 2012] [fda.gov/safety/medwatch/safetyinformation/ucm367392.htm, April 11, 2014]
The Institute of Safe Medication Practices (ISMP) reported in the May 2014 issue of its QuarterWatch Report, that the number of complaints to the FDA about serious adverse events associated with Xarelto now outnumbers the complaints filed for its rival its rival blood thinner, Pradaxa. According to ISMP, there were 680 serious adverse event reports for Xarelto in the first quarter of 2013 compared to 528 complaints for Pradaxa. The ISMP suggests that the number of complaints have increased due to doctors prescribing Xarelto more than Pradaxa. According to the ISMP, outpatient prescriptions for Xarelto increased to nearly 1 million prescriptions per quarter while Pradaxa has steadily declined since peaking in early 2012.
[ismp.org/quarterwatch/pdfs/2013Q1.pdf, May 7, 2014]
In August, Germany-based Bayer AB announced that it would launch three new studies designed to expand the use of Xarelto, according to report recently published by Reuters. According to the news agency, Beyer said that one trial involving 7,000 patients is designed to determine whether Xarelto can prevent strokes from recurring in patients who suffered strokes of undetermined cause. The second trial would explore whether Xarelto can help reduce thrombotic vascular complications in more than 5,000 patients with peripheral artery disease. Beyer said the third study involving between 2,000 and 3,000 patients would evaluate the blood thinner for long-term prevention of acute coronary syndrome, a cardiovascular illness. According to Bloomberg, this is Beyer's third attempt to get FDA approval for use of Xarelto to treat acute coronary syndrome. In January, an FDA panel voted 10-0 to reject the expanded use of Xarelto to help prevent heart attacks and strokes 90 days after patients suffer from acute coronary syndrome.
[bloomberg.com/news/2014-01-16/j-j-bayer-fail-to-win-panel-vote-for-wider-xarelto-use.html, January 16, 2014]
About Wright & Schulte LLC
Wright & Schulte LLC, an experienced personal injury firm, is dedicated to the belief that America's legal system should work for the people. Every day, the attorneys of Wright & Schulte LLC stand up for the rights of people who have been injured or wronged and fight tirelessly to ensure that even the world's most powerful corporations take responsibility for their actions. If you're looking for a law firm that will guarantee the aggressive and personal representation you deserve, please do not hesitate to contact Wright & Schulte LLC today. Free Xarelto lawsuit case evaluations are available through yourlegalhelp.com or by calling 1-800-399-0795.
Contact:
Wright & Schulte LLC
812 East National Road
Vandalia, Ohio 45377
1-800-399-0795
http://www.yourlegalhelp.com
Like us on Facebook
Follow us on Twitter
Join us on Google+