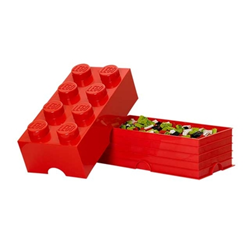 The great thing about these new products is that they're also a fun option for storing other items- not just for Legos.
Urbana, IA (PRWEB) September 29, 2014
Online retailer SpaceSavers.com has added fun, new Lego storage pieces to its website. All of the new containers are durable, stackable, and feature the iconic locking Lego look.
"Boys and girls of all ages love to build with Legos," said SpaceSavers merchandise manager Tammy Karr. "These convenient containers keep their Legos together and – most importantly – out from under their parents' feet."
The new pieces range in size for builders with just a few sets to Lego enthusiasts with large collections.
The smallest containers feature the Lego Friends theme and are designed for sorting and to hold Minifigures. The popular Lego storage cases from IRIS have also returned and are available in both red and blue. Each includes a 32"x32" baseplate to serve as project foundations.
For larger collections, boxes shaped to look like the famous Lego block makes the perfect storage space. The colorful designs are stackable and come in a square or rectangular size. All are available in traditional LEGO colors, as well as in the pinks and purples of the Lego Friends line.
Larger storage pieces are also available in bins shaped like Lego characters' heads and come decorated in a variety of fun facial expressions.
"Lego storage pieces have always been a popular line for us. The great thing about these new products is that they're also a fun option for storing other items – not just for Legos," said Karr.
All products can be purchased by visiting SpaceSavers.com or by calling toll free at 800-880-6264.
###
About SpaceSavers.com
SpaceSavers.com is an e-commerce website selling a variety of storage and organizing solutions for the home, garage and office, from popular brands like IRIS USA®, Closetmaid®, Umbra®, and Rubbermaid®. Headquartered in east central Iowa, SpaceSavers is owned and operated by Clickstop.com. Other Clickstop web property brands include USCargoControl.com, EcoFoil.com, and JustPlasticBoxes.com. For more information, visit SpaceSavers.com.