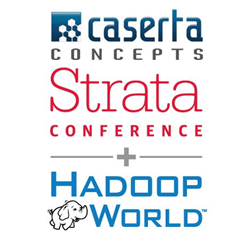 It is perfect for us to participate in deep-immersion events such as Strata's Data Driven Business Day where data scientists, business executives, analysts and technologists gather to get up to speed on emerging technologies and techniques
New York, NY (PRWEB) October 07, 2014
Big Data has been quickly evolving over the past few years and the biggest challenge today for CIOs is figuring out how it fits in the enterprise. It is clear the Big Data ecosystem is quite different from traditional relational database systems, and the key components of data governance, security and enterprise data all need to be uniquely planned and executed in a total enterprise solution.
Strata+Hadoop World 2014 NYC (October 15 – 17, 2014) kicks off with its featured Data Driven Business Day (DDBD). Billed as the missing MBA for a data-driven, always-on business world, DDBD focuses on solving some of today's thorniest business problems with big data, new interfaces, and the advent of ubiquitous computing. The daylong agenda includes "Designing for Interruption," "The Data Lake Dream," "Sounds of Data Silence," and the panel, "Deciding Better", among other thought-provoking sessions.
'Deciding Better,' moderated by Strata Conference Chair and recognized author and entrepreneur Alistair Croll, features Joe Caserta, president of Caserta Concepts. Joe and his fellow panelists tackle pressing issues, talking about how best to turn insights into outcomes by looking at the tools and platforms needed to speed decision making, keep pace with constant change and "decide better."
"The Strata conferences have great energy and purpose and the New York venue is where cutting edge science and new business fundamentals intersect," says Joe Caserta. "It is a perfect fit for us to support and participate in a deep-immersion event such as Strata's Data Driven Business Day where data scientists, business executives, analysts and technologists gather to get up to speed on emerging technologies and techniques."
Joe is also featured in the Strata Solutions Showcase Theater. The Showcase is open to all attendees and offers presentations from leaders in the big data space highlighting use cases and customer success stories. And, finally, on Thursday October 16th, Joe will be available for one-on-one sessions during Office Hours, a special conference feature that offers attendees an opportunity to meet with conference speakers to have individualized big data strategy and technical discussions.
Strata + Hadoop World 2014 is being held at the Jacob Javits Convention Center in NYC. For more information on the conference or to register, visit the event website. If registering, take advantage of Caserta Concepts' 20% discount offer by using code caserta20 at the registration page.
About Caserta Concepts:
Caserta Concepts is a New York-based technology innovation consulting services firm that specializes in big data analytics, data warehousing and business intelligence. With a worldwide network of professionals, Caserta Concepts collaborates with CIOs and their IT organizations to help them gain new business insights by maximizing data value. The company was founded by internationally recognized data warehouse authority and author, Joe Caserta, in 2001. For more information, please visit http://www.casertaconcepts.com Connect with Caserta Concepts on Twitter (@casertaconcepts) and LinkedIn at http://www.linkedin.com/company/caserta-concepts. You can also follow Joe Caserta on Twitter at @joe_caserta