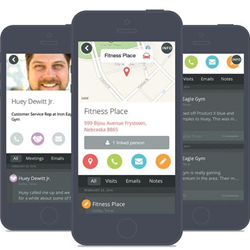 Outfield is a must have tool for sales teams.
Austin, TX (PRWEB) September 30, 2014
The newly launched Outfield App is proving beneficial to any business with field reps, regardless of their CRM software needs. More than just a comprehensive mobile CRM, Outfield provides real time reports and analytics that give businesses complete transparency of their field operations. This application streamlines field rep workflow, increases field intelligence, and provides the accountability businesses need to stay successful. See how at http://www.outfieldapp.com
With Mobile CRM apps projected to grow 500% in 2014, businesses are steadily realizing that mobile compatibility is becoming a necessity to keep CRM's updated and useful. Outfield accelerates mobile data entry and immediately updates mobile data to your primary CRM database. Outfield's versatility is unmatched with integrations compatible with most any CRM platform. Along with streamlined data transfer, this app provides real time customized reporting, workforce tracking, geotagged photos, and social interaction capabilities that are unparalleled in this market.
Outfield is now offering a one month, full-access, free membership, allowing businesses to evaluate the benefits of this unique application for themselves. With rapid growth in trial memberships and a high customer conversion ratio, Outfield is proving its value in Mobile CRM.
About Outfield:
Outfield was initially created in 2012 as a proprietary CRM for one of the most successful distribution companies in the country. They discovered significant improvements in field rep productivity and operations management. When the partners realized their company's success they brought Outfield to the market. Headquartered in Austin TX, Outfield is rapidly gaining traction in the mobile CRM/BI market on the national scale. Our endeavor is to provide your business with an easy to use, comprehensive mobile CRM that boosts productivity and profitability for businesses. For more information visit http://www.outfieldapp.com and start your free trial to see how Outfield can be an asset to your company.