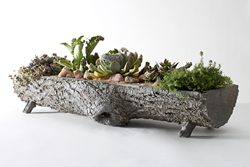 I see the new NativeCast containers as more than garden containers. They're functional pieces of art.
Philadelphia, PA (PRWEB) September 25, 2014
Since 2010, Ricky Giacco of NativeCast has been crafting handmade sustainable garden containers in his rustic Pennsylvania studio. To keep it fresh this season, Giacco is debuting new fall eco-concrete containers for the home.
"I see the new NativeCast containers as more than garden containers. They're functional pieces of art – they serve a purpose in the home, but their charm and style is what makes them stand out wherever they're placed," comments Giacco, founder of NativeCast.
This fall, NativeCast is introducing two new containers, both featuring artisanal charm and sustainable materials since they're created with NativeCast's signature eco-concrete made from recycled concrete, pine cones and sand.
The new NativeCast Crab Apple Trough makes the perfect outdoor centerpiece or focal point of a tablescape or mantle. The Crab Apple Trough can be filled with a variety of textured succulents to complement the rustic surface or packed with one uniform plant for an elegant, simplistic look.
"The shape and purpose of the Crab Apple Trough is to create and inspire conversation outside," Giacco remarks.
The Crab Apple Trough pairs stunningly with the other containers in the Crab Apple Collection.
The Crab Apple I and Crab Apple II planters both work beautifully inside on desks, tabletops and mantels. When combined with the new Crab Apple Trough, cohesion can be created across rooms, or even indoor and outdoor spaces.
NativeCast's other new addition to its "Cast Your Own" line is the Hypertufa Hex DIY Kit. This DIY kit takes NativeCasts' DIY planters to the next level by using NativeCast's eco-concrete and vermiculite and peat moss, too. Together, hypertufa mimics the texture, drainage and color of rock without any of the weight or fragility.
"Hypertufa planters have long been a favorite of DIY gardeners and decorators, but we've simplified the process. No more fiddling with ratios of ingredients. Everything needed to create your own tabletop hypertufa planter is included," Giacco explains.
"Our new NativeCast garden containers show what we're all about. We fuse high art and functional design, so you can grow something beautiful," Giacco notes.
Get growing with a NativeCast signature planter or DIY container kit here.
About Native Cast
NativeCast began creating garden containers that marry high art and functional design in 2010. Each NativeCast piece is conceived, created and individually hand cast by founder, Ricky Giacco. All of NativeCast's sleek, sustainable planters are made with light-weight, green concrete and natural materials, like sand, shells, and pine needles. To purchase DIY kits or other hand-cast containers, visit http://www.nativecast.com, like them on Facebook or follow them on Pinterest.