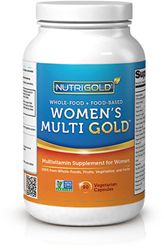 Orem, UT (PRWEB) September 30, 2014
In a recent interview with Nutritional Outlook, Judy Blatman, the Senior Vice President of Communications for the Council for Responsible Nutrition (CRN), stated, "At the most recent meeting of the DGAC (Dietary Guidelines Advisory Committee), the Committee noted that people are not meeting recommended levels for certain letter vitamins, calcium, magnesium, and folate. As people struggle to get the nutrients they need, a multivitamin should be considered as one way to get those nutrients when diet alone doesn't work."
NutriGold agrees with the CRN on this point. Priya Kahn, PhD (Director of Research & Development) adds:
"In a perfect world, our diets would comprise of foods that are locally sourced, grown in nutrient-rich soil without the use of pesticides and toxic chemicals, picked at the peak of freshness, and consumed within hours with little or no processing. However, the reality is that a majority of the foods we consume are no longer as rich in essential nutrients as they used to be."
If multivitamins are going to be a part of the daily source of important vitamins for consumers, NutriGold believes that shoppers should have a clear guide and be educated in the buying process. To that end, NutriGold offers a "Multivitamin Purchasing Guideline." The terms, "natural," "whole-food," and "food-based," are the most overused and abused terms in the industry and, for this reason, should not be used as the sole criterion when making a purchasing decision. Regardless of whether the product claims to be "whole-food," "food-based," or "natural," put the vitamin product you are considering buying to this test:
Does the Supplement Facts panel list the "source" of the vitamin?
Does the Supplement Facts panel list a bunch of vitamins (without the source) along with small to moderate amounts of fruit, vegetable, enzymes, and superfood powders?
Is the product labeled as containing vitamins along with co-enzyme?
Is the product labeled as containing whole-food, food-based, food-state, or raw vitamins?
Does the Supplement Facts (NOT the packaging) panel make claims about the individual vitamins being organic or natural?
The fact of the matter is that not all multivitamin supplements are created equal. It's not just that you should supplement, but that you should supplement using products that contain nutrients in forms that occur in nature. At the very least, you should approximate what occurs in nature so your body can optimally assimilate and utilize the nutrients.
Read more about the difference between synthetic vitamin isolates vs. vitamins from food on the company's blog.
FREE SAMPLES
For free product samples of NutriGold supplements, please visit http://www.nutrigold.com/free-samples
ABOUT NUTRIGOLD
NutriGold is a science-based nutraceutical company committed to identifying, developing, and offering cutting-edge nutraceutical products. With a portfolio of best-in-class products at reasonable prices backed by unmatched service, NutriGold is not just raising the bar on quality, but is helping define the standards for the rest of the industry to follow and this is reflected in its:
+ Use of non-GMO, organic, whole-food, and clinically-proven ingredients
+ Uncompromising efforts to manufacture products without artificial ingredients, Stearates, Laurates, Sulfates, and Dioxides
+ Voluntary, extensive third party testing of all raw materials and finished products for identity, purity, potency, and safety
+ Resolute efforts to ensure that all products are free of contaminants, adulterants, allergens, and GMOs
+ Unwavering commitment to transparency, accountability, and truth in advertising
+ Initiatives to educate consumers so they can make informed decisions that affect their health
Website: http://www.nutrigold.com
Phone: 1-866-224-4680
Facebook: facebook.com/NutrigoldUSA
Google Plus: plus.google.com/+NutrigoldUSA
Twitter: twitter.com/Nutrigold_USA