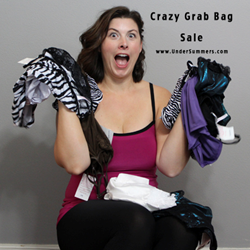 Women love trying Shortlettes at a lower price and the surprise of the Grab Bag.
KIngwood, TX (PRWEB) September 26, 2014
Undersummers by CarrieRae Crazy Grab Bag Shortlette Slip Short Sale is back for a limited time only. The Crazy Grab Bag Sale allows women to try Undersummers Shortlette Slip Shorts for a lower price and have a little fun at the same time. Customers select the size (regular, plus, and petite options available) and CarrieRae picks the color, pattern, and style. Shortlette Slip Shorts are available in three styles, Lace, Classic, and 24/7 and a wide variety of colors and prints. New colors and prints have been added to this version of the sale. "Women love trying Shortlettes at a lower price and the surprise of the Grab Bag. Our customers have been patiently waiting for this sale to return and I am happy to bring it back." Carrie Adorna, founder of Undersummers by CarrieRae.
Undersummers Shortlette Slip Short Sets are comfortable rash guard panty shorts & camisoles to wear in place of a slip. They are not shape wear. Undersummers Shortlettes are made from our Signature Stay Cool(tm) fabric to make women comfortable in under dresses without bulky layers. The Shortlette Slip Short: rash guard panty short is uniquely designed with a seamless inner thigh and stay put leg. Sizes range from XS (0-2) to 4X (30). Undersummers by CarrieRae products are mindful that women deserve comfortable coverage everyday that is functional and fun to wear.
CarrieRae LLC & Undersummers by CarrieRae was founded by Carrie Adorna out of her own quest for cute and comfortable long legged panties to wear "under summer" dresses. She currently is based in Kingwood, TX and proudly manufactures in the USA.
Undersummers by CarrieRae is available online and various stores. Contact CarrieRae LLC for wholesale inquiries.