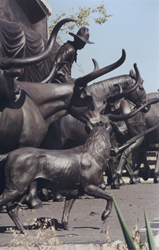 "We really need volunteers to help make this event a success and it is a chance for our members to promote their museum," Moore says.
Duncan, OK (PRWEB) September 26, 2014
The Chisholm Trail Heritage Center is revved up for the arrival of 48 racecar teams participating in the Fireball Run 2014. As the teams pioneer their way across America's Frontier, one pit stop on their journey will be in Duncan on Tuesday, Sept. 30.
It's season 9 for the reality-filmed and livestreamed series, Fireball Run- the Most Epic Adventurally in America. Earlier this year, JJ Sanchez, Fireball Run's Executive Producer, and his crew, visited the Center for pre-production filming. Since then the crew have made two more visits for planning purposes.
The drivers will be coming in from Ardmore and cars are expected to arrive between 10:15 a.m. and 11:45 p.m. The public is invited to welcome and cheer on the race teams, who will be driving iconic and one of a kind vehicles during their trek.
While this is a ton of fun for the teams as they follow a course, solve clues and get a chance to discover points-of-interest, history and culture in the participating communities the drivers also have a mission, to help recover America's missing children.
There will be photo opportunities and everyone is encouraged to come out for a couple of hours and show support for the drivers on their journey. The Snake River Gang and World's Largest Longhorn will be on the property, along with other surprises! Volunteers are needed to direct traffic, act as security, serve lunch, entertain and provide information. If interested in volunteering from 9 am to 12:30 pm on Tuesday, Sept 30, please contact Stacy Moore, Executive Director at The Chisholm Trail Heritage Center at 580-252-6692.