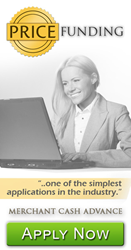 The focus here is to create stronger communities by providing the financial backing small business owners need to create jobs and keep the country moving forward
Miami, FL (PRWEB) September 26, 2014
Price Funding Group is pleased to announce the recent acquisition of eSmallBusinessLoan.com. eSmallBusinessLoan.com is now operating as a child company of PriceFunding.com. Price Funding Group has been working quickly to transition all of eSmallBusinessLoan.com assets, branding, marketing, and clients. The mission remains the same as these two Merchant Cash Advance leaders shared the same vision, to provide alternative funding options to small business owners, giving them the option to choose and helping them find the best funding solution for their needs.
Price Funding Group stands above their competitors as they do not charge any broker fees, also known as finder's fees. Price Funding Group aims to provide Small Business Owners a free service as they match merchants with the right funder within their network of Merchant Cash Advance providers. Price Funding Group is committed to creating competitive offers for both current and new clients seeking working capital for their small business, all while charging no broker fees. Small Business Owners now have the option to apply at one company and get offers from a wide list of funders, giving the merchant leverage to get competitive offers.
We reached out to business owners in different parts of the country. The feedback we gathered had a common denominator, the length of the terms were too short. PriceFunding.com designed a system to find merchants a deal that fits best with the circumstances. When we asked Sam Breyer Director of Business Development at Price Funding Group, he shared with us that in some cases PriceFunding.com has been able to find merchants deals with terms of up to 24 months in length. Breyer also added that PriceFunding.com has been matching merchant with deals with competitive factor rates.
"This is an exciting merger as two business-to-business financing leaders are coming together, bringing in complementary relationships with each portfolio" says Sam Breyer Director of Business Development at Price Funding Group. "In addition to creating opportunities for small business owners to have access to working capital, we are one of the few fee-less brokers in the market" he added. Small Businesses are the core of this country and Price Funding Group is making it easy for business owners to have access to the working capital they need to expand their business.
"The focus here is to create stronger communities by providing the financial backing small business owners need to create jobs and keep the country moving forward" - Sam Breyer
About Price Funding Group
At the Price Funding Group, we work with hundreds of small businesses all over the United States across multiple industries, helping them achieve long term success by giving them fast access to a business line of credit, based solely on your future receivables. Price Funding Group offers alternatives to traditional Small Business Loans for small business owners seeking working capital.
We are the private lenders small business owners turn to when they are looking to grow