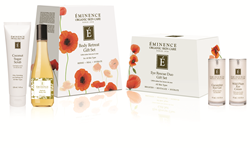 We have taken some of our most popular products that work in harmony with each other to create luxurious, limited edition gift sets for the holidays.
(PRWEB) October 01, 2014
Looking for holiday gift ideas? Éminence Organic Skin Care, the leader in organic skin care, is making gift giving easy this holiday season. Starting October 1st 2014, new spa gift sets are being launched by Éminence to solve all shopping dilemmas. Choose from two luxury skin care gift sets made from the purest organic ingredients to target the delicate eye area or to deliver whole body beauty.
The luxurious Body Retreat Gift Set and Eye Rescue Duo Gift Set are formulated to suit all skin types and will tick all the boxes for the perfect gift. Inside the Body Retreat Gift Set, a hydrating and restorative Coconut Sugar Scrub brings all-over body radiance, followed by a luxurious Apricot Body Oil infused with apricots and healing oils to achieve a soft, smooth and healthy look. The Eye Rescue Duo Gift Set gives a whole new meaning to "bright eyes." The Wild Plum Eye Cream takes care of dark circles and signs of fatigue, while the Cucumber Eye Gel combines shea butter, bearberry and cucumber to reduce puffiness and revitalize the skin.
"We have taken some of our most popular products that work in harmony with each other to create luxurious, limited edition gift sets for the holidays," says Boldijarre Koronczay, President and Master Trainer, Éminence Organic Skin Care. "When customers are searching for gifts, they are looking for something that will have an impact and we are confident that our selection of products will do just that. Through targeted, organic ingredients and innovative formulations we can deliver the results you want."
Not only is Éminence simplifying holiday shopping with the new gift sets, but each skin care gift set also includes an exclusive entry code to win a grand prize trip to the beautiful Bacara Resort & Spa in Santa Barbara! The lucky winner will enjoy luxurious accommodations and Éminence Organic Skin Care facial treatments. The new skin care gift sets will be available at participating spas and salons worldwide from October 1st, 2014.
For more information, images and sample requests please contact Elisa Kosonen at ekosonen(at)eminenceorganics(dot)com or 1.604.505.3103.
About Éminence Organic Skin Care
Éminence Organic Skin Care is the award-winning provider of the most effective skin care products in the natural and organic skin care industry. With more than half a century of herbal craftsmanship and innovation, and several centuries of unsurpassed skin rejuvenation techniques unique to Hungary, they offer the highest quality natural skin care to leading salons, spas and their clients in more than 40 countries around the world. Éminence's superior spa treatments and products rely on a unique combination of hand-picked fresh ingredients. Vitamins are captured in their all-natural fresh base, offering dramatic results as actual seeds, pulps and peels begin the regenerative and healing powers that only nature can produce. Voted "Favorite Skin Care Line" by spa professionals and seen as Hollywood's skin care secret, with devoted fans such as Madonna, Jessica Biel, Katherine Heigl, Jena Malone and Mark Ruffalo, Éminence is renowned for premium organic and Biodyanmic® skin care that enhances your well-being naturally. A commitment to the environment is integral to their business practices and they strive to create products that are good for the earth as well as good for the skin. By enlisting wind and solar power energy in the making of products, recyclable packaging with vegetable-based inks, geothermal heating in the laboratory and an eco-alternative design of the head office, Éminence does all that they can to combat climate change. Starting in the fall of 2012, the Forests for the Future initiative brought that commitment to the environment to a whole new level by planting a tree for every product sold. Visit http://www.eminenceorganics.com for more information.