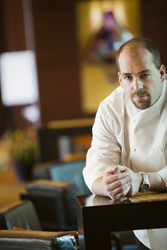 If we don't grow it here, we'll buy it local.
Oak Brook, IL (PRWEB) September 25, 2014
Hilton Chicago/Oak Brook Hills Resort & Conference Center has announced the appointment of Sean Patrick Curry as Executive Chef. In his new role, Chef Curry is responsible for menu creation and daily culinary operations at the hotel and its restaurants, Windows and The Grille. Chef Curry aims to revamp the food culture at Hilton Chicago/Oak Brook Hills Resort & Conference Center, elevating the banquet and catering service and introducing what he refers to as modern farm cuisine.
"Chef Curry brings an exceptional talent to the Hilton team, beginning with an innovative vision and an inspirational work ethic," said Stefan Mühle, General Manager, Hilton Chicago/Oak Brook Hills Resort & Conference Center. "We're confident he will enhance our guest experience, setting a new standard for dining in Chicagoland."
As a member of the American Culinary Federation and the Slow Foods Movement, Chef Curry's farm-to-fork aesthetic focuses on environmentally-friendly practices and sustainability. Point in case, he will look no further than his own backyard for as much produce as possible. In spring 2015, Chef Curry is installing at least 10 beehives throughout the hotel's 150-acre Audubon-certified Cooperative Sanctuary, home to the 18-hole Championship Willow Creek Golf Club, sprawling willow trees, and picturesque lakes. The beehives will not only pollinate a "chef's garden" that Chef Curry will source vegetables and fruit from, but also provide honey (over 200 pounds per hive) to be used in everything from cheese boards to cookies to cocktails. In addition to beekeeping, Chef Curry will oversee a major renovation to the Hilton Chicago/Oak Brook Hills Resort & Conference Center's restaurant outlets beginning later this year. Besides new architectural and menu design, some of the other concepts under consideration are a charcuterie counter, a wine bar and reserve cellar, and a wood-fire oven.
Also in the pipeline for Chef Curry is the hiring of a Pastry Chef who will help him advance the banquet and catering offerings at Hilton Chicago/Oak Brook Hills Resort & Conference Center. A dedicated, internal Pastry Chef will bring Chef Curry a unique asset, giving the kitchen the ability to prepare on-site everything from custom wedding cakes to desserts made from the hotel's farmed honey. The goal is to deliver chef-driven, restaurant quality offerings not only to the hotel's outlets, but also to weddings, meetings, conferences, and the like.
"I want Hilton Chicago/Oak Brook Hills Resort & Conference Center to be known as the premier hotel dining destination in the Midwest," asserted Chef Curry, who will put his first stamp on new original menus this fall (details to be announced in subsequent release). "I aim to play off the Midwestern seasons, utilizing methods of preservation that showcase local flavors and high quality ingredients in abundance."
Currently, Hilton Chicago/Oak Brook Hills Resort & Conference Center offers dining options catered to travelers of all kinds. From 11 a.m. to 10 p.m. daily, guests can savor the resort's farm-to-table culture at The Grille, serving local meats and cheeses in appetizers, salads, sandwiches, burgers, flatbreads and more. During the warmer months, The Grille Patio is open for guests to relish the scenic resort while enjoying innovative dishes made with only the freshest ingredients. The resort chic Windows restaurant has something for every appetite, at every time of day, while the Lobby Café offers a variety of invigorating beverages, including an array of espresso offerings, iced/frozen/blended coffee and tea specialties, and Starbucks. Guests looking to enjoy a cocktail can visit the Lobby Bar for signature hand-crafted drinks made with fresh squeezed juices and garnishes, all while overlooking the lavish Willow Crest Golf Club. Hilton Chicago/Oak Brook Hills Resort & Conference Center also offers guests a delicious, chef-driven room service menu.
Outside of the kitchen, Chef Curry goes beyond farm-to-table and weaves a truly locavore mindset into his practice. He insists the key to his art is in the development of relationships with farmers and purveyors. Chef Curry starts by visiting local farms to understand their operations, to see for instance how one grows grass all winter to keep chickens plump and happy, or how another stores sweet potatoes in a root cellar so they look freshly picked.
"I take pride in being able to tell people where their food comes from. If we don't grow it here, we'll buy it local," said Chef Curry. "Whatever the case, at the base of each dish is a story about its origins just waiting to be revealed."
Chef Curry brings to Hilton over 20 years of culinary experience, including his most recent post at Marriott Naperville, where he served for four years as Executive Chef. During his cooking tenure, Chef Curry has been decorated with many accolades, ranging from Manager of the Quarter to Living the Vision awards. The Philadelphia native originally studied at the Atlantic City Culinary Academy, where he learned to develop his own unique style and flair. The aspiring young chef then went on to do an apprenticeship at L'Essential in Chambery, France under renowned Executive Chef Michelle Bouvier, of whom which he credits as having the most impact on his career to date.
Chef Curry's culinary technique continued to evolve while working in various restaurants on the New Jersey shore including The Crab Trap and Blue Heron Pines Country Club. His next career adventure was in the movie catering business, developing new creations in a kitchen on a 54-foot catering truck for various movie, T.V. and rock stars. Thereafter, Chef Curry ventured into the hotel world joining Marriott International in Chicago and working his way up through hotels of varying sizes and client bases until reaching his current position at Hilton Chicago/Oak Brook Hills Resort & Conference Center.
About Hilton Chicago/Oak Brook Hills Resort & Conference Center:
Just west of downtown Chicago, nestled into the quiet suburb of Oak Brook, Illinois, Hilton Chicago/Oak Brook Hills Resort & Conference Center (3500 Midwest Road, Oak Brook, IL 60523) offers an ideal destination for getaways, golf trips, family vacations and wedding or business events. With over 42,500 square feet of IACC Certified meetings and events space, the hotel is an ideal venue for business meetings, conferences, retreats, banquets and social events of any kind. The 348 rooms and 38 suites are complemented with meeting and event spaces, exercise facilities, indoor and outdoor swimming pools and several dining options. Rooms can be booked by visiting http://chicagooakbrookhills.hilton.com. For more information, please call 630.850.5555 or by visiting Facebook or Twitter.
About Portfolio Hotels & Resorts:
Headquartered in Westmont, IL, Portfolio Hotels & Resorts is a hospitality management company experienced in managing unique, boutique-style hotels, destination resorts and significant branded urban hotels in major domestic and destination markets. The company was established in 2005 by former Chicago-based Coastal Hotels founders Helmut Horn and Graham Hershman, industry veterans whose past experience includes development of the Hawthorne Suites brand, the Highlands Inn in Carmel, CA, and Cheeca Lodge in the Florida Keys. For more information about the company, visit http://www.portfoliohotels.com.