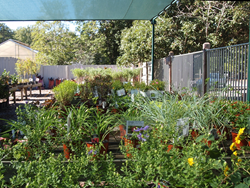 Proceeds Benefit the Ida Cason Callaway Foundation
Pine Mountain, GA (PRWEB) September 26, 2014
Fall is a wonderful time to get plants in the ground in time to establish a beautiful garden for Spring and Summer. Beginning Oct. 3, 2014, guests visiting Callaway Gardens this Fall will have the opportunity to purchase plants such as assorted trees, shrubs, and perennials. There also will be a limited assortment of garden mums while they last. The Fall Plant Sale will be within the gift shop of the John A. Sibley Horticultural Center and is scheduled to be open through Nov. 9, 2014, or while supplies last.
Proceeds from the Center's sales support the non-profit Ida Cason Callaway Foundation, owner and operator of Callaway Gardens.
General admission to Callaway Gardens is $18 per adult (ages 13-64); $15 per senior (65+); $9 per child (ages 6-12); and free for children 5 and younger (admission prices include tax). Annual Passholders, with their pass and valid ID, can enter the Gardens with up to five guests in the same vehicle for free per day. Members of the Military and their spouse receive free admission and half-price for up to four guests.
Callaway Gardens is in Pine Mountain, Ga., 60 minutes southwest of Atlanta and 30 minutes north of Columbus. For additional information, call 800-463-6990 or visit http://www.callawaygardens.com.
About Callaway Gardens
For more than 60 years, Callaway Gardens has provided "a place of relaxation, inspiration and a better understanding of the living world" for millions of visitors. Owned and operated by the non-profit Ida Cason Callaway Foundation, Callaway Gardens includes a garden, resort, preserve and residential community on thousands of acres in Pine Mountain, Georgia. Highlights include a butterfly conservatory, horticultural center, discovery center, chapel, inland beach, nature trails and special events throughout the year.
In addition, Callaway Gardens offers nearly 80,000 square feet of meeting space, 689 guest rooms, restaurants, shops, golf, tennis, fishing and more.
Five unique, close-knit residential communities — with custom home sites, lakefront properties and cottages on the golf course — offer an ideal home away from home or full-time residence.
Callaway Gardens is home to a forest preserve which is under conservation easement. This conserved, sustainably-managed land is used for biological studies and environmental education programs.