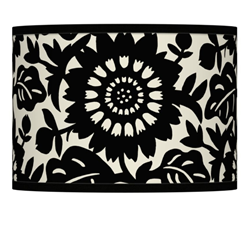 The shades are printed on demand...it allows us to experiment more in terms of color and design, to match virtually anything a customer may request.
(PRWEB) September 30, 2014
Lamps Plus unveils a collection of six new lamp shade patterns from Seedling by thomaspaul. Created by acclaimed textile designer Thomas Paul and inspired by vintage fabrics and motifs, each of these exquisite designs is available in sixteen different palettes on a variety of wall, floor and table lamps and ceiling fixtures, for a total of more than 2,500 different combinations. With designs starting at $59.99, this program makes the sophisticated signature look of one of today's leading designers available to consumers.
"This collection features some of our most popular designs from the past few years. Some are in the original colors and others have been reinterpreted in fresh new color ways that are only available in this collection," explains Thomas Paul. "One of the advantages of working with Lamps Plus is the fact that all of the shades are printed on demand. I like this model because it allows us to experiment more in terms of color and design, to match virtually anything a customer may request."
Each Seedling by thomaspaul design is handcrafted using Lamps Plus' patented giclée printing process, in which lamp shades are made to-order in California using archival quality fine art inks. The shades are then hand-finished and affixed to a lamp or fixture of the customer's choice. With Lamps Plus' Design Your Own feature, customers can also personalize their Seedling by thomaspaul designs by specifying their own custom combinations of colors and fixtures.
"Thomas Paul is among the most respected home decor designers today. We're excited to introduce Seedling by thomaspaul to our collection of designer patterns," said Dennis Swanson, Lamps Plus founder and CEO. "As part of our giclée program, these exclusive patterns provide yet another option for customers who are looking for a designer style that can be completely customized to the match the look and needs of their home."
The entire collection of Seedling by thomaspaul can be viewed at: http://www.lampsplus.com/products/manufacturer_seedling-by-thomas-paul/
These patterns and many more can be customized with the Lamps Plus Design Your Own tool: http://www.lampsplus.com/design-it/
About Thomas Paul
Thomas Paul was born and raised in New York City. He got his start in the fashion business working as an intern at DKNY in the mid-nineties after graduating from New York's Fashion Institute of Technology with a degree in textile design. In 2001, Paul launched the thomaspaul pillow collection, which was originally conceived of as an idea of utilizing the silk printing mill's capabilities for home accessories instead of personal accessories. Since then the line has steadily expanded into other categories apart from silk pillows to include tabletop, stationery, and lamp shades.
About Lamps Plus
For more than 30 years, Lamps Plus has been synonymous with excellence in the retail lighting industry. Established in 1976, Lamps Plus is the nation's largest specialty lighting store, with more than 40 superstores throughout the western United States. In 2014, LampsPlus.com was named a Top 10 Housewares/Home Furnishings e-tailer and a "Hot 100" world's best retail website by Internet Retailer Magazine. Together with its retail locations, the company serves customers nationwide with the largest selection of functional and decorative lighting fixtures, accessories, furniture and home decor. This selection includes hundreds of products, ranging from traditional chandeliers to the latest in home decor, available exclusively from Lamps Plus. The company also holds several patents for innovative lighting. Services offered include in-home lighting consultations, in-store workshops and installation from expert, licensed electricians. American Lighting Association certified designers are available to offer product recommendations and advice in all our stores, by phone or online at LampsPlus.com. The Lamps Plus family of websites also includes 55 Downing Street, Builders Discount Lighting and Lamps Plus Open Box. Visit the official Lamps Plus website: LampsPlus.com.