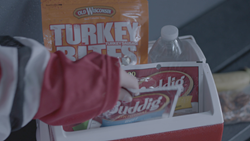 Chicago, Ill. (PRWEB) September 25, 2014
For a second year, Carl Buddig & Co. is sponsoring Chicago's hometown favorite, the Chicago Blackhawks, with a multimedia marketing campaign throughout the 2014-15 hockey season. The marketing campaign covers the entire 82-game National Hockey League (NHL) season and includes: in-game advertising and promotions; an ad campaign airing on WGN TV and WGN Radio; digital ads with WGNradio.com and the Chicago Tribune; in-store advertising and Point-of-Sale (POS); out-of-home advertising; cinema advertising with NCM Theater network; and WGN Radio Fan Van stops at grocery stores throughout the Chicagoland area.
Throughout the season, the WGN Radio Fan Van Tour will feature retail stops with giveaways and family friendly activities. In support of youth hockey, Buddig also is a sponsor for Blackhawks Youth Hockey Camps providing advanced coaching techniques to children ages 5-12.
"Our Blackhawks sponsorship has been a huge success with our hometown fans and retailers, and we look forward to another winning season," said Tom Buddig, executive vice president of marketing, Carl Buddig & Co. "Just like Buddig lunchmeats and Old Wisconsin meat snack products, the Chicago Blackhawks have been a local fixture, and we're proud of our continued association with this legendary team."
Popular and award-winning TV spots created for last year's campaign will air again on WGN TV. These show the relationship forged between mom and son as he is transformed from a toddling tot into a skilled hockey player.
Featured products supported by the sponsorship include:
· Buddig Original Lunchmeats: In a class all its own
· Buddig Premium Deli: Great-tasting, lean and wholesome
· Buddig Deli Cuts: The heart-healthy favorite
· Old Wisconsin Meat Snack Products: Snack Bites, Snack Sticks and Summer Sausage
In conjunction with this sponsorship, Buddig invites fans to learn more about game-friendly recipes, tips and ideas for hosting the perfect tailgate party at a Twitter Party the brands will host on Oct. 14 from 8 to 9 p.m. EDT using #BuddigPowerPlay. Follow along and join the conversation for a chance to win authentic Blackhawks merchandise, collectibles and Buddig products and coupons.
The Chicago Blackhawks have won five Stanley Cup championships since their founding in 1926. WGN Radio has sole broadcast rights for the Blackhawks through the 2018-19 season. WGN TV is Chicago's CW network affiliate and has HD broadcast rights for the Chicago Blackhawks.
About Carl Buddig & Company
Based in Homewood, Ill, Carl Buddig & Co. has been feeding family traditions for more than 70 years with the very best in taste, variety and convenience. Carl Buddig & Co. is the family-owned parent company of Buddig lunchmeat and Old Wisconsin hardwood smoked sausage and snack products. Buddig offers an assortment of quality, thin-sliced lean meats for sandwiches, snacks and special recipes including Buddig Original, Premium Deli, Deli Cuts and Fix Quix products. Old Wisconsin sausage and meat snack products are handcrafted and smoked over real hardwood fires. To learn more, visit http://www.buddig.com and http://www.oldwisconsin.com.