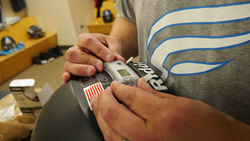 We're pleased to offer the Brain Sentry sensor as an additional safety tool for PYFL players, parents and coaches.
Bethesda, Maryland (PRWEB) September 25, 2014
The Pacific Youth Football League (PYFL), comprised of approximately 140 teams in Ventura, Santa Barbara, and northern Los Angeles counties in California, has endorsed the use of Brain Sentry helmet-mounted impact sensors that alert when an athlete suffers an unusually rapid – and potentially dangerous – acceleration of the head. The devices, which also help to monitor sub-concussive hits, have been recommended to parents and guardians of players in the PYFL for use in the 2014 season.
With roughly 3,500 players ranging from age 6 to 14 and hundreds of volunteer coaches, the PYFL is one of the nation's largest independent youth football programs. Now, with Brain Sentry and other initiatives, PYFL is working to be the safest.
PYFL President Terry Blythe said: "With the current awareness of the issues of concussions in youth sports and activities, it is critical that we are educating parents and coaches on how they can make our local practices and games safer for our players. The Brain Sentry Impact Counter Plus sensors, coupled with the USA Football Heads Up program, will assist our coaches in teaching players proper techniques to help them avoid excessive head/helmet contact."
Blythe added: "We can't just depend on young athletes to report their symptoms of concussions – we know they have reluctance to do that. Recent studies have shown that cumulative effects of repeated concussions can result in permanent intellectual and cognitive changes. We're pleased to offer the Brain Sentry sensor as an additional safety tool for PYFL players, parents and coaches."
Greg Merril, co-founder and CEO of Bethesda, Maryland-based Brain Sentry, said, "Athletes don't want to be pulled off the field. They hide symptoms of concussion. They might not even know they have one, and knowing is critical because many catastrophic brain injuries are the result of second impacts to already concussed athletes. Brain Sentry monitors impacts and helps identify athletes that should be assessed for concussion."
Merril added: "Our compact sensor measures impact forces, and it's affordable. At one ounce it is light. It's also waterproof, there is nothing to maintain, and the batteries last all year without charging."
Brain Sentry's sensor estimates direction, peak acceleration, and duration of impacts as experienced at the center (CG) of the head. Brain Sentry's patent-pending sensor technology includes a micro-electromechanical, tri-axial accelerometer capable of measuring acceleration from any direction. Helmets provide varying levels of impact protection depending on the direction of the hit. Brain Sentry's proprietary, DAS™ technology (Directionally Adaptive Sensing) provides a consistent alert level – independent of hit direction or helmet type.
Brain Sentry sensors are made in the U.S. and easily affix to the outside of the helmet (on the back). The product senses head impact and serves as an early warning for possible brain injury.
About Brain Sentry: Brain Sentry has a simple goal: to stop lives from being devastated by sports-related brain injuries. Named a Top Startup of the Year in 2013 by The Wall Street Journal, Brain Sentry is privately held and headquartered in Bethesda, MD. The company was founded by a team of award-winning health-related product developers who have continued to win accolades; the Brain Sentry Impact Sensor was named Best Tech Product of the Year by Baltimore Innovation Week. Recently featured on The Today Show and Good Morning America, Brain Sentry is the official sensor provider for the Arena Football League. Brain Sentry's initial focus is to provide sensors for the three most popular helmeted contact sports: football, lacrosse, and hockey. Brain Sentry is also developing sensors for biking, alpine, and other helmeted activities. Learn more at http://www.brainsentry.com.
About PYFL: The Pacific Youth Football League (PYFL) is a non-profit, volunteer organization established over 21 years ago; created to serve the families in Ventura, Santa Barbara and Northern Los Angeles Counties. The PYFL promotes Youth Football with the intent of providing a competitive and organized program for student athletes between the ages of 6 and 14. Our League strives to give these youth the opportunity to play football and cheer in a controlled environment with an emphasis on safety, technique, sportsmanship and teamwork. Learn more at http://www.eteamz.com/pacificyouthfootball/