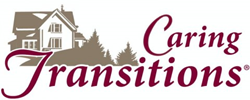 Saratoga, NY (PRWEB) September 24, 2014
Joe Goldkopf and his fiancé Mary Cook Geiger are looking forward to bringing a new service to the senior community with their new business, Caring Transitions of Greater Saratoga.
Caring Transitions is America's largest resource specializing in managing senior relocations, downsizing and estate liquidations. In addition to the organizing, packing and move oversight, Caring Transitions can handle on-site and online estate sales, liquidations, and preparing homes for market. Caring Transitions of Greater Saratoga serves Saratoga County, Warren County and the Capital Region as well as the surrounding community.
"I understand the physical and emotional stress seniors and their families go through when they're trying to relocate or liquidate an estate. It can be traumatic. Caring Transitions is here to make those processes easier and to help families find the positive outlook in each situation," Joe said.
"We can provide the total solution for clients and their families – from relocation planning and packing boxes to estate liquidations and client resettlement into their new home. We are here to make the entire process less stressful," he added.
Joe brings a background in project management, logistics and customer service programs to the business. He fell in love with the Saratoga area years ago and relocated from Connecticut to be with Mary when the company he worked for closed. Rather than look for another job, the couple decided to launch their own Caring Transitions franchise.
"I love working with seniors and the senior market is underserved. Caring Transitions was a perfect combination of my background in project management and logistics as well as my desire to help seniors in my community while bringing a new business to the area," Joe said.
In addition to the physical services Caring Transitions provides, each Caring Transitions franchisee is a Certified Relocation and Transition Specialist, a designation bestowed by an independent organization that evaluates providers of senior relocation services. They are trained, bonded and insured. This new franchise will bring several new jobs to the area as the business grows.
"We're looking to build a team of people who understand what we're about and who have experienced something similar with their own families. We want our team to be made up of people who have dealt with these types of situations before and can sympathize with our clients," Joe said.
Founded in 2006, Caring Transitions has been a trusted and highly respected national company leading the way in senior relocation, household liquidations and estate sale management in more than 150 locations across the United States. Caring Transitions is part of the International Franchise Association, the Small Business Association's Franchise Registry, VetFran and Minority Fran.
For more information about Caring Transitions of Greater Saratoga, call (518)320-7857, email JGoldkopf(at)CaringTransitions(dot)net or visit http://www.CaringTransitionsGreaterSaratoga.com.
About Caring Transitions
Caring Transitions, founded in 2006, is the first national franchising concept specializing in Senior Relocation and Transition Services. With locations throughout North America, Caring Transitions provides clients with expert advice plus a well-executed transition plan beginning with the initial sorting of personal belongings through packing, shipping and selling of items to the final clearing and cleaning of the property. For more information, visit http://www.caringtransitions.com.