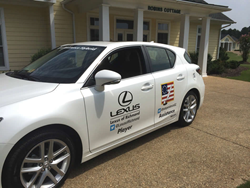 We want to leave the planet in better condition than when we found it. The Lexus CT Hybrid from Lexus of Richmond helps us with that mission.
Richmond, VA. (PRWEB) September 25, 2014
Richmond, Virginia: Independence Golf Club has reopened this month with a beautiful new facility and a strong focus on being eco-friendly. Whether that means using earth friendly fertilizers or grass that needs less water it shows a commitment to improving our environment. That commitment continues with their announcement of using two new Lexus CT Hybrids from Lexus of Richmond as their official Player Assistance Vehicles (beverage carts) making them the only golf course in the world using hybrid cars in this way.
Giff Breed, President of Pro's Inc. operators of the Golf Club said, "Sustainability is important to us and just like the Lexus CT Hybrids. We want to leave the planet in better condition than when we found it. Since 85% of luxury hybrids on the road today are Lexus Hybrids it was the obvious choice for us. These vehicles are quiet, cutting edge and will add to the golf experience at our club. And to show our appreciation to Lexus of Richmond we have created preferred reserved parking at the Club for Lexus of Richmond customers."
George Whitlow, President of Lexus of Richmond is taking the relationship with Independence Golf Club even further. He shared, "Lexus of Richmond is going to offer a pick-up and delivery service for our customers. Book a tee-time, make a service appointment, and we will pick up your Lexus at Independence while you are golfing, service and clean it, and then return it to Independence before you walk off the 18th green."
Lexus of Richmond will also be showing their support to young local golfers. Leighann Albaugh, PGA, Director of Robins Junior Program said, "We are super excited to be partnering with Lexus of Richmond and appreciate their generous donation of a scholarship for a boy and a girl at our overnight camp each summer. The difference that camp can make in the life of a child is profound. It's an experience that they'll remember forever."
With so many events at Independence Golf Club (@IndependenceGC) and Lexus of Richmond (@LexusofRichmond) they will be using Twitter to keep their followers and customers updated on all these activities. There are also monthly Twitter contests to reward their online followers and customers for their engagement and participation. Start following them today.
See the Lexus of Richmond videos at [http://tinyurl.com/IndependenceGolfHybrid
http://tinyurl.com/IndependenceGolfHybrid30 and http://tinyurl.com/IndependenceGolfHybrid60
For information about the Lexus /Independence Golf Summer Camp visit lexusofrichmond.com or email independencegolf@lexusofrichmond.com
About Lexus of Richmond:
Lexus of Richmond is located at 9703 Midlothian Pike, Richmond, VA 23235.
Telephone: 804-323-8000 Contact: Tom Flood Website: http://www.lexusofrichmond.com