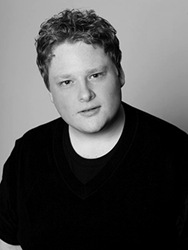 I credit AMTC with giving me the push I needed to move to Chicago...
(PRWEB) September 25, 2014
AMTC grad and coach Merrick Robison was seen in the premiere episode of Chicago Fire's third season on September 23, 2014, at 9 p.m. (CDT), playing the character Bruno who is rescued from a fire. "Being on set was amazing. For anyone in doubt, they use REAL FIRE! A little disconcerting at times, but very cool," Merrick says.
Chicago Fire also streams on NBC.com and HULU, for those who were unable to watch live. Merrick speaks about his scene in the television series. "I was on set for about 21 hours over 2 days."
Merrick began singing in church at a young age. His family encouraged his passion for acting, leading him to star in many high school productions. After graduation, Merrick enrolled at Olivet Nazarene University, where he graduated in 2011 with a BA in Music and a minor in Musical Theatre. In the Winter of 2012, Merrick auditioned and was accepted into talent-development ministry, Actors, Models and Talent for Christ.
After attending AMTC's international SHINE Conference, Merrick moved to Chicago. "I credit AMTC with giving me the push I needed to move to Chicago and start doing what I love and am called to do. That's why I'm also an acting coach for AMTC, to try and be clear that what you learn at SHINE is just as important as who you meet."
In 2012, AMTC became a 501c3 non-profit ministry. It is dedicated to making good bolder in film, fashion, music and theater and is currently holding auditions in major cities across the country. The next SHINE Conference is being held Dec. 30, 2014 - Jan. 4, 2015 at the Gaylord Palms Resort, Orlando, Florida. For more information about auditions like the one Merrick attended, please visit http://www.amtcworld.org