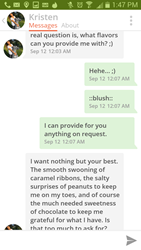 Provo. Utah (PRWEB) September 26, 2014
Tinder meets Provo, UT Sub Zero Ice Cream & Yogurt in a fun new social media campaign. In a town full of college students trying to find their perfect match, Sub Zero Ice Cream & Yogurt saw an opportunity to have some fun while promoting their delicious ice cream.
What started out as an experiment turned out to be an exciting new way to interact with and personally come to know Sub Zero Ice Cream & Yogurt's customers. Each match conversation starts out innocent with a "punny" ice cream pick up line, and usually results in something much more risqué. Those who really show their love for ice cream receive a discount on their first "Tinder date".
Each Tuesday Sub Zero Ice Cream will be posting a favorite Tinder fling to their blog, Twitter, and Facebook with the hashtag #tastytinder. To read these posts follow Sub Zero Ice Cream & Yogurt: @subzerotweets, http://www.subzeroicecream.com, Director of Marketing - Peter Black (404-353-3437)