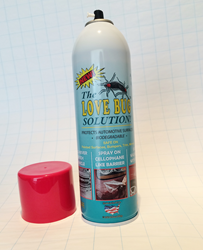 We are the only solution that protects your vehicle from bugs BEFORE damage is done, that is eco-friendly, and is removed simply by washing your vehicle
Hobe Sound, Florida (PRWEB) September 27, 2014
The Love Bug Solution™, the spray on eco-friendly barrier and cleaning solution to protect vehicles from love bugs and other insects, is now available for the first time in an aerosol can. The solution requires no masking or taping off of any areas of the vehicle before applying. The bug barrier and cleaning solution that was introduced in 2011 has been refined to add extra protection and bug cleaning options for every vehicle operator who has had to labor to remove love bugs and other insects from a vehicle's hood, grill or headlights.
"States throughout the United States each have their own insect that wreaks havoc on automobiles, trucks, RVs, and motorcycle paint. Florida and most Gulf Coast states, in particular, have the dreaded love bug," said Frank Sheldon, the Florida entrepreneur who developed the spray-on solution that creates a cellophane-like film that protects against insect damage. "We have fine-tuned our new product and made it easier to use by putting it in a convenient aerosol spray can. We are the only solution that protects your vehicle from bugs before damage is done, that is eco-friendly, and is removed simply by washing your vehicle," added Sheldon.
The ease, convenience, and effectiveness of the product has made it one of the most sought after bug protection and cleaning products in the world.
"Our major market is the United States. However, we continue to receive interest from all over the world from people who simply want to place a bug barrier on their car, truck or recreational vehicle to protect its paint from the damage love bugs and other insects can cause. In some cases, the residue left from bugs on unprotected surfaces literally eats the paint off the vehicle. The Love Bug Solution prevents that from happening."
The product is engineered to be sprayed on from the new aerosol can. One can provides up to four applications (depending on the size of the vehicle). When it dries, it provides a cellophane-like barrier, literally a bug shield, which protects your vehicle from Love Bugs and other insects. Bugs are trapped on the solution's surface where they may be safely cleaned by simply washing your vehicle. Ingredients in The Love Bug Solution™ magically dissolve into soapy suds that carry bug residue away from your vehicle into bug never-never land.
"The days of scouring your car or truck's grill, hood, lights and mirrors are gone. Our new spray on bug barrier takes the major work out of getting rid of bugs that have taken aim at your vehicle while traveling during love bug season or any kind of insect swarm your vehicle may run into," Sheldon added.
The Love Bug Solution is available online in convenient aerosol cans at http://www.TheLoveBugSolution.com.
The Love Bug Solution contains no solvents, is biodegradable and is proudly Made in the U.S.A. For more information visit The Love Bug Solution website. The Love Bug Solution -- Protecting Your Investment with a Cellophane-Like Barrier! Distributed by K-Four Marketing, Hobe Sound, Florida.