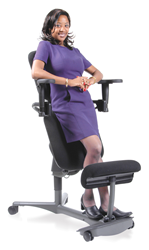 Sales for the upgraded ergonomics product are expected to be strong.
Burnsville MN (PRWEB) September 25, 2014
Mounting requests for the Stance Angle Chair has propelled ergonomics manufacturer, HealthPostures , to release an enhanced version of the ergonomic office product. HealthPostures announced that the redesigned ergonomic Stance Angle chair will market in 2015. According to David Watkins, HealthPostures' Sales and Marketing manager, "The Stance Angle Chair was discontinued in 2008. But, since that time, demand for the product has actually increased."
The Stance Angle Chair is built to increase comfort and support for people who spend several hours a day working at a desk. In addition to giving users the capability to adjust their supportive seating to several different positions, the Stance Angle Chair allows workers to alter their posture throughout the day. Benefits associated with these ergonomic options include reduced back pain, improved posture, reduced neck strain and less numbness.
The Stance Angle chair adds extra comfort and support for the many people who already work with a height adjustable desk. Levers on the side of the chair take workers from a sitting to a standing position. As the chair moves, a padded back supports the spine. According to HealthPostures' developer, Jared Elliott, during the redesign, the ergonomics company is "going to focus on the up-grading the upholstery/seating and mechanical adjustments of the chair."
HealthPostures designed the original Stance Angle Chair and now specific benefits the redesign aims to offer workers overall ergonomic comfort and a large range of posture and support features. Five years of development work went into the original design of the ergonomics product. Consumer demand and a shift toward workers alternating between standing and sitting are largely responsible for the re-launch. Post re-launch distribution is expected to be significant. Jared shares that, "The product will be available to the general public and our entire dealer network." Sales for the upgraded ergonomics product are expected to be strong.
About HealthPostures
HealthPostures LLC builds ergonomic equipment that helps people to stay healthy while they work. The firm has been designing and manufacturing ergonomic sit stand solutions since 1996. Part of the company's mission is to "strive to provide quality products that will help transform your sedentary life so you have a healthy way to work." Office solutions sit stand products Health Postures designs and manufactures include dual monitor sit stand work stations, adjustable mouse stands, dual monitor arm accessories, Stance move seat extensions, industrial surface Taskmates and Stance Move chairs.
Contact:
HealthPostures LLC
14310 Ewing Avenue South, Suite 100
Burnsville, MN 55306
800-277-1841
https://healthpostures.com