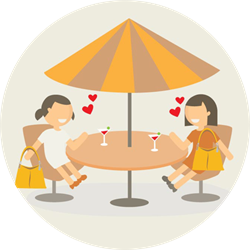 54% of purchase decisions are driven by word of mouth recommendations we all make, so why not create a website around that fact?
Toronto (PRWEB) September 30, 2014
Framestr.com, a social commerce platform which uses word-of-mouth to promote products among friends, is gaining traction as the new fee-free player in the international online shopping community.
Entrepreneurs Chris Porteous, Jordan Whelan and Geoff Christou conceptualized the site over a year ago after encountering frustrations selling products for their design firm, Our Paper Life. Their frustrations included high monthly fees, complicated backend systems and a lack of integrated promotion.
"The problem with launching an E-commerce site nowadays is that you feel like you are standing alone in the cold trying to get the word out," said Jordan Whelan, Co-Founder. "What we realized is that each person has a circle of fans and friends who could also become brand ambassadors for products if they were given the right incentive."
Framestr.com allows users to earn a cash commission by sending a product link to a friend through email, social media or by embedding a mini store on a blog. If a sale is made, the user holds a cash balance on the site which they can withdraw or transfer to a friend.
Framestr's vendors, which span over 15 countries, can set the commission for the product (often between 5-15%) depending on the amount they would like to offer for valuable personal recommendations.
The site also opens up opportunities for bloggers and those without the technical know-how to setup their own e-commerce store. A user can simply paste a code for a product on any site creating a mini-store for purchase with all commissions tracking back to their user account.
"54% of purchase decisions are driven by word of mouth recommendations we all make, so why not create a website around that fact?" said Whelan. "Framestr circumvents traditional advertising and brings the focus back to human interaction which has been proven time and time again to be invaluable."