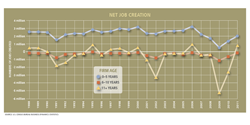 Kansas City, Mo. (PRWEB) September 25, 2014
Tweet this: New @KauffmanFDN entrepreneurship policy digest offers strategies to reverse declining startup activity http://kff.mn/1sqFBVT
When it comes to job-creating power, the age of a business is more important than the size.
According to an Entrepreneurship Policy Digest released today by the Kauffman Foundation, new businesses account for nearly all net new job creation and almost 20 percent of gross job creation.
While existing small and large businesses are important to overall economic strength, neither group contributes to new job creation the way new firms do.
The Policy Digest explains that startup activity is on the decline in the United States, and proposes strategies for policymakers to help reverse that trend.
"Especially with the declining startup rate, there is an opportunity for lawmakers at the federal, state and local level to improve conditions for business creation," said Jason Wiens, policy director at the Kauffman Foundation. "From advancing education at the local level to creating visas for immigrant entrepreneurs at the federal level, our new Policy Digest offers several strategies that could help spur job growth via entrepreneurship."
About the Kauffman Foundation
The Ewing Marion Kauffman Foundation is a private, nonpartisan foundation that aims to foster economic independence by advancing educational achievement and entrepreneurial success. Founded by late entrepreneur and philanthropist Ewing Marion Kauffman, the Foundation is based in Kansas City, Mo., and has approximately $2 billion in assets. For more information, visit http://www.kauffman.org, and follow the Foundation on http://www.twitter.com/kauffmanfdn and http://www.facebook.com/kauffmanfdn.