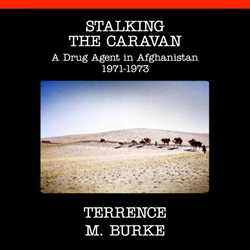 The true story of a drug agent taking on the criminals of the pre-Taliban narcotics trade in Afghanistan.
Evergreen, Colorado (PRWEB) September 30, 2014
Brook Forest Voices will release as an audiobook on October 6th, "Stalking the Caravan" by Terrance M. Burke, former Deputy Director and Acting Director of the U.S. Drug Enforcement Administration. This is Terry's follow-up to "Stories from the Secret War: CIA Special Ops in Laos" and details Terry's adventures while serving in Afghanistan from 1971-1973.
In 1971 Afghanistan, the rugged routes to Kabul teemed with worldwide youth in search of cheap drugs and enlightenment. With the idyllic dreamers came hardcore criminals. In "Stalking the Caravan," then Federal Narcotics Agent Terrance Burke (and an earlier recipient of the CIA Intelligence Star for Valor) describes taking on criminals in Kabul while working undercover, often without backup, to dismantle smuggling operations in Afghanistan and India, using "renditions" to return fugitives like Timothy Leary to the U.S., teaming with the Soviet KGB to close a drug route through the USSR, and challenging criminals in the Royal Palace and the Afghan Police.
Michael Pearl, narrator for Terry's first audiobook "Stories from the Secret War" lends his considerable talent to "Stalking The Caravan". "Stalking the Caravan" will be available from the Brook Forest Voices' Audiobook Store and through your favorite online retailer.
About Brook Forest Voices: a complete audio production studio located just west of Denver in Evergreen, CO, specializing in audiobook narration, production and publishing. BFV is designed to help large and small publishers, as well as authors, with all their audio needs. Publishers and authors wanting to learn more can visit http://www.brookforestvoices.com or contact Jaime Andrade, BFV Business Manager at 303-670-4145.