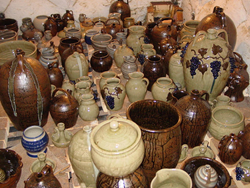 Folk potter Michael Crocker will be revealing his newest batch of hand-crafted pottery at the Oct. 4 kiln opening.
(PRWEB) September 25, 2014
On Saturday, Oct. 4, Crocker Pottery in Lula, Ga., will host a kiln opening to celebrate its 30th anniversary. More than 200 pieces of pottery will be available for purchase, including both utilitarian and decorative pieces by folk potter Michael Crocker as well as Meaders pottery and more.
Kiln opening is a rare and exciting event
A kiln opening is a rare and exciting event at Crocker Pottery, where folk potter Michael Crocker will unveil his latest collection of creations straight out of the kiln. This event only happens two or three times a year. Crocker Pottery's kiln openings typically sell out in only a few hours, with customers lining up at the door waiting for the shop to open.
The kiln opening will be held from 1 to 3 p.m. Please plan to arrive promptly at 1 p.m. to assure the best selection while inventory is still available. Crocker Pottery is located at 6361 West County Line Road, Lula, Ga., 30554. For more information, call 770-869-3160 or email folkpots(at)bellsouth(dot)net.
About Crocker Pottery
Crocker Pottery is one of the last traditional pottery shops in America. Founded by Michael Crocker, Crocker Pottery is the culmination of his lifelong fascination with the folk craft. Michael uses traditional techniques to create his pieces: using Georgia red clay and straining ashes to make his glazes. Each of Michael's pieces is crafted 100% by hand. His collection includes both decorative items such as whimsical face jugs and more utilitarian items such as kitchenware and vases.
About Michael Crocker
Michael Crocker began his pottery education at the age of 12 as an eager apprentice to potters in his hometown of Lula, Ga. Where other boys his age were interested in superheroes from comic books, Michael's heroes had names like Craven, Hewell, Wilson, Meaders and Brown – the artisans from which he learned the trade of pottery.
Today, Michael is committed to continuing the time-honored traditions of old-time Southern potters, handing on knowledge of authentic Southern pottery to the next generation and generations to come.