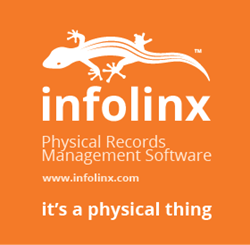 Kensington, MD (PRWEB) September 30, 2014
Today, Infolinx System Solutions™ announced the Q4 availability of the industry-leading Infolinx WEB feature-set, now available in native SharePoint functionality. Compatible with SharePoint 2013, the native SharePoint solution provides federated searching capability along with enterprise class physical records management functionality and is available in conjunction with the version 3.4 release of Infolinx WEB.
As organizations continue the migration from paper to electronic based records, translation of their corresponding paper-centric policies surrounding the life-cycle of these records can present significant challenges. Add to this the increased risk of legal exposure stemming from regulatory and compliance issues, and the need for an enterprise records management solution like Infolinx WEB becomes apparent.
Integrated with various enterprise content management applications like SharePoint, offsite storage vendors like O'Neil and Iron Mountain, and imaging solutions like Kofax Capture, the Infolinx WEB physical records management application provides cradle to grave management of corporate records for organizations large and small.
About Infolinx®
Infolinx System Solutions is a leading provider of DoD5015.2-certified enterprise physical records management software. Full life-cycle records management for archives, records centers, and file rooms includes integrated Enterprise Content Management, third-party warehouse integration, robust searching, online requesting, complete audit history, location reconciliation, supply item ordering, retention schedule and legal holds management, integrated RFID technology, space management with charge-back functionality, extensive reporting capability, advanced security configuration, workflow email notifications, and legacy data sharing. Available as an on-premises or cloud-based solution, Infolinx maintains clients within all major business segments and the public sector. Infolinx System Solutions Demo