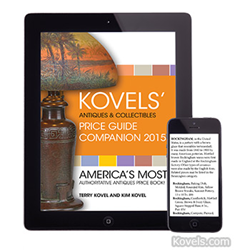 (PRWEB) September 25, 2014
The all-new 2015 edition of "Kovels' Antiques & Collectibles Price Guide" has just been released and it has a new eBook Companion — available only at Kovels.com store! "Kovels' Antiques & Collectibles Price Guide Companion 2015" contains the same price and category information found in the traditional printed copy — that's 35,000 prices in over 700 categories. It's a convenient, portable and searchable field guide for collectors who want to visit antiques shops, shows and flea markets with the latest price information at their fingertips. Kovels' eBook Companion is downloadable to your favorite digital device — PC, Mac, tablet, e-reader or smartphone — in Kindle, Nook, iBooks and most other e-reader formats.
"Kovels' Price Guide Companion 2015" is a free download with the purchase of the printed copy of "Kovels' Antiques & Collectibles Price Guide 2015" from the Kovels.com store. The eBook is not available anywhere else! Take advantage of this special offer for immediate access to Kovels' accurate and current prices — an indispensible resource for any collector or antiques enthusiast on the go.
About Kovels.com
Kovels.com, created by Terry Kovel and Kim Kovel, provides collectors and researchers with up-to-date and accurate information on antiques and collectibles. Kovels' Antiques was founded in 1953 by Terry Kovel and her late husband, Ralph. Since then, Kovels' has published some of America's most popular books and articles about antiques, including the best-selling "Kovels' Antiques and Collectibles Price Guide." The brand new 2015 edition is now available in bookstores and in the online shop at Kovels.com. Ralph and Terry were featured in three TV series about antiques and collectibles, The most recent was "Flea Market Finds with the Kovels" on the HGTV cable channel. The Kovels' website, online since 1998, offers 900,000 free prices and includes a free weekly email, "Kovels Komments." It give readers a bird's-eye view of the market through the latest news, auction reports, a Marks Dictionary, readers' questions with Kovels' answers and much more.
Contact Information:
Liz Lillis
216.752.2252