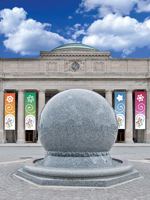 (PRWEB) September 24, 2014
The Science Museum of Virginia has added five new members to its Trustee and Foundation boards this summer. Governor McAuliffe appointed Eucharia "Ukay" Jackson, Linda Nash and James T. Roberts to the Museum's Board of Trustees; Hank C. Coleman, Jr. and John H. Wick, IV were voted onto the Museum's Foundation board.
"The Museum is thrilled to have such dynamic and experienced members of the community join our Boards," says Richard Conti, Chief Wonder Officer, Science Museum of Virginia. "Their varying expertise will strengthen the Museum's already solid governance and fundraising ability."
Meet the New Board Members:
Henry "Hank" C. Coleman, Jr.
Hank C. Coleman, Jr. brings a passion for serving those in need, and has the business and fiscal acumen required to provide expertise in the field of banking and economic and community development. Hank masses over 15 years in the financial industry holding senior level positions in Banking and nonprofits. Hank currently serves as a Senior Vice President with the Not for Profit and Government Commercial Banking Group for SunTrust Bank; Central Virginia Region.
Hank has worked with many non-profit community organizations to include local YMCA's, Leadership Metro Richmond, Virginia State University Foundation, Community Development Housing Groups, Community Development Financial Institutions and youth enrichment services as a Board of Director. In 2012 Mr. Coleman had the distinct recognition of being named as one of Virginia's Top 40 Under 40 by the Virginia Housing Development Authority and Virginia Housing Coalition.
Eucharia "Ukay" Jackson
Eucharia "Ukay" Jackson is a seasoned non-profit leader and volunteer of the Richmond Community. Eucharia had 15+ years of Marketing and Sales experience with Eli Lilly and Company, allowing her to bring her professional skills in marketing, networking, fundraising and communications to the table across multiple civic works and services.
Eucharia is the current Chair of a Circle of Red and Executive Leadership Team & Board of Directors of the American Heart Association RVA. Additional board memberships include; YWCA, The Council of Historic Richmond, Liaison Committee SMVA, Children's Home Society, Cure by Design Ambassador-ACS Richmond, Emerge Virginia, Collegiate School Parent Leadership Committee. Eucharia also serves as a member of; The Women's Club of Richmond, Links Incorporated, and Jack & Jill Inc.
Linda Nash
A serial entrepreneur, Linda likes to identify business opportunities and grow these concepts from scratch into thriving enterprises. She started the first exclusively school-age childcare program in Richmond in 1983, which she grew to six locations, ran for 15 years, and then sold to Nobel Education Dynamics. Then Linda designed and started the Compass Schools, a private preschool and kindergarten, where she served as CEO and Chairman of the Board for three years.
In 2003, with 40 patients and one physician, Linda opened the doors to PartnerMD, a membership medical practice that gives patients round-the-clock access to their doctors, and emphasizes prevention and wellness, and was acquired by the Markel Corporation in 2011. Linda and her team continue to grow the company, and it now has 8,000 members, 11 locations and 27 physicians coast to coast.
James T. Roberts
With more than 35 years of experience in various state government positions, Jim Roberts, now retired from state government, has a wealth of knowledge on government operations and management, and serves as Vice President of Advantus Strategies, a Richmond, Virginia consulting firm, and as Legislative Director of the Virginia Governmental Employees Association.
Before retiring from state government, Jim served as Deputy Secretary of Administration and Deputy Secretary of Public Safety in the cabinet administrations of two governors. Other state posts he held include Director of Virginia's Department of General Services, Director of Finance and Administration for the Virginia Information Technologies Agency and the Science Museum of Virginia. Roberts was also Deputy Staff Director of the Appropriations Committee of the Virginia House of Delegates, and held several positions with the Departments of Corrections and Criminal Justice Services.
John Wick
John is a Senior Private Banker and Senior Vice President for the Greater Virginia market of Wells Fargo Private Bank, with primary responsibility for coordinating complex/customized/personalized credit, deposit, and treasury management solutions for individual and family clients.
John has been affiliated with Wells Fargo and its predecessor banks since 1989, beginning his career in the Richmond, VA area. He most recently served as Director for the MidAtlantic Region where he led the Private Banking businesses for the Virginia, Maryland, and DC markets. He and his family returned to Virginia in July of 2010 after five years from Northern Virginia.