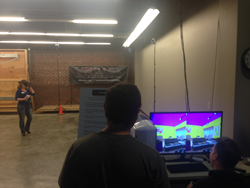 Having access to software developers on the team enables us to take a theory and create a solution that would otherwise take years to develop.
SEATTLE (PRWEB) September 25, 2014
Teams from Balfour Beatty Construction took top honors at the recent Seattle AEC Hackathon 1.2. Hacking apps built on virtual reality, 3D modeling and productivity technologies, the two teams combined to take first place overall and win the 'Unreal Challenge' with solutions designed to solve real-world "pain points" in the architecture, engineering and construction (AEC) industry. The hackathon took place at the Pacific Northwest Center for Construction Research and Education at the University of Washington.
Winning top overall honors, Balfour Beatty Construction's Team BuildTrak came together with hackers from Newforma and Microsoft to develop a mobile production reporting and tracking app built on Newforma project information management (PIM) software. The team first worked to identify specific industry pain points that its app could address in the real world. To address inefficiencies on worksites, the team focused on building an app to be used in the field to more accurately track man hours as work is being completed.
Featuring a simple user interface for both desktop and mobile devices, the BuildTrak production tracking app addresses a real and current need for Balfour Beatty Construction divisions that conduct self-perform work. The BuildTrak app delivers value in saving time and money based on its ability to increase accuracy and ensure reliable information is coming from the field. The app also creates a paperless process, enabling centralized project data storage and the ability to reference historical project data for future estimates.
Balfour Beatty Construction's Team HazYard took first place in the hackathon's 'Unreal Challenge' by building a game-style app based on virtual reality and SketchUp 3D modeling technologies. The objective was to adapt the innovative technologies to make learning safe behaviors and preparing field workers for projects more memorable, fun and engaging. In the challenge sponsored by Unreal Engine, a game developer platform, Team HazYard partnered with hackers from IrisVR to build a "gameified" app designed to improve the quality of safety training and jobsite orientation.
To bring safety training to life in a game format, HazYard users wear an Oculus Rift virtual reality headset to simulate real-world jobsite experiences with games connected to number of days without a lost-time incident. The game app scores individuals on how well they grasp safety concepts, gauges their safe choices, and evaluates their understanding of a project's unique conditions. HazYard also incorporates a Trimble SketchUp plug-in that allows users to highlight potential worksite danger zones and identify the project's emergency assembly point.
"Each AEC Hackathon provides our project teams the collaborative environment to prototype and move toward real-world solutions for problems associated with field operations. Having access to software developers on the team enables us to take a theory and create a solution that would otherwise take years to develop," stated Jason Reece, technology innovation and improvement lead for Balfour Beatty Construction.
To learn more about the company's involvement and apps, please connect with:
Daniel Shirkey, technology leader at Balfour Beatty Construction
Elizabeth Angel, senior process manager at Howard S. Wright, a Balfour Beatty company
Luis Martinez III, project manager at Howard S. Wright, a Balfour Beatty company
# # #
About AEC Hackathon
The AEC (Architecture, Engineering, Construction) Hackathon was created to give those designing, building, and maintaining our built environment the opportunity to collaborate with cutting edge technologies and its developers and designers. It has quickly become a community of innovators that include all elements of the built environment, not just AEC. Our world faces fresh new problems that urgently need brilliant minds to solve them and this is the community that is improving how our world is designed, built, and operated. Visit the AEC Hackathon website at http://www.aechackathon.com.
About Balfour Beatty Construction Services US
An industry leader for more than 80 years, Balfour Beatty Construction Services US provides general contracting, at-risk construction management, and design-build services for a wide variety of markets, serving clients in both the public and private sector. With more than 3,000 employees across the U.S., the company has been cited as a Top 10 Domestic Building Contractor and Top 10 Green Builder by Engineering News-Record. The company is part of London-based Balfour Beatty plc, a global infrastructure services business operating in more than 80 countries, with a worldwide commitment to providing assets that help societies function, develop, and thrive. To learn more about the company, visit http://www.balfourbeattyus.com or look for BalfourBeattyUS on Facebook, Twitter, and LinkedIn.