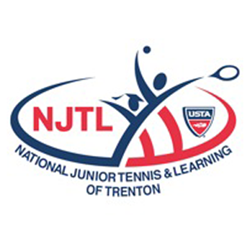 Everyone who has been involved with NJTLT understands that this project was a truly significant contribution to our participants as well as the city of Trenton.
Trenton, New Jersey (PRWEB) September 25, 2014
Last month, National Junior Tennis and Learning of Trenton hosted the Daniel L. Haggerty Jr. Pavilion Dedication Ceremony at the Junior Champions Tennis Center (JCTC) in Cadwalader Park. The event was attended by Trenton's Mayor Eric Jackson as well as tennis greats, Jim Courier and Todd Martin. All of NJTLT's various program participants and volunteers were also on hand for the ceremony, as well as hundreds of supporters and sponsors of NJTL of Trenton.
The event also highlighted an exhibition doubles tennis match between Courier, Martin and two of NJTLT's student participants, Trenton High School freshman, Alfred Kandakai and 2014 Trenton High School Class President, Nu-Kermeni Kermah.
"Everyone who has been involved with NJTLT understands that this project was a truly significant contribution to our participants as well as the city of Trenton," said NJTLT Executive Director Rob Howland. "The entire NJTLT team is very grateful to have received entirely positive feedback from our supporters, sponsors and participants regarding the Pavilion Dedication."
The Pavilion has been gifted to the city of Trenton as part of a massive, multi-year JCTC renovation and expansion project. It will also be utilized by NJTLT's participants in various tennis instructional programs.
"The Pavilion Dedication was undoubtedly a success for NJTLT and played an instrumental role in our mission to provide opportunities and instruction in education, nutrition and tennis," said Howland. "We look forward to continuing this momentum as we move forward to the Capital Cup Charity Tennis Event & Family Dinner on September 28."
The 2014 Capital Cup Event will be held at the Trenton Country Club on Sunday, September 24 and will feature a family dinner, tennis tournament featuring Ashe Elite student participants, trophy presentation and more.
For information on the Capital Cup Event as well as donation information and sponsorship opportunities, please visit http://www.njtloftrenton.org.
About the Capital Cup
Now in its 11th year, the Capital Cup is one of the premier charity tennis tournaments in New Jersey and attracts over 130 players annually. For 2014, NJTLT will recognize the contributions of Trenton-based architect, John Hatch, for his donation of the design for the Daniel L. Haggerty Jr. Pavilion as well as Nassau Racquet Club owners, Benton and Carolyn Camper for their many years of generous donations and support.
About NJTL of Trenton
Founded in 1975, NJTLT touches the lives of more than 2,500 children from the Trenton area each year. Through NJTLT's award-winning programs, Trenton youth are provided with year-round tennis programs and participate in after-school academic enrichment, mentoring and college preparation. Participants are rewarded with employment opportunities, tennis teacher certifications as well as eligibility for a total of $15,000 in annual college scholarship stipends. Twenty-five percent of NJTLT's full-time staff and 60 percent of the teaching staff are former participants. This reaffirms the vision of NJTL national founder and tennis great Arthur Ashe – to promote character and offer education, employment and nutrition opportunities for young people through tennis.
Follow NJTLT on social media at http://www.facebook.com/njtlt on Facebook and http://www.twitter.com/njtlt on Twitter.