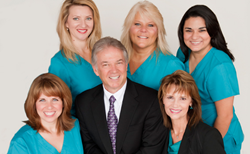 Dallas, TX (PRWEB) September 24, 2014
This September, Dr. Michael Neeley is raising awareness of the importance of proper dental care in honor of Self-Improvement Month. Dr. Neely is currently offering patients in the Dallas, TX area with missing teeth a chance to improve their smiles through the use of implant dentistry. Dental implants, which are considered the best replacement alternative by dental professionals, can be used to replace a single lost tooth or to replace many lost teeth.
Statistics show that 69 percent of all adults past the age of 35 have suffered from at least one lost tooth, whether it be from tooth decay, gum disease, or injury. Dental implants are simple to place in the mouth and require no care other than what patients are expected to do for their regular teeth, brushing and flossing daily. Most implants are also indistinguishable from natural teeth when they are placed in the mouth. Individuals in Dallas, TX who are looking for a flawless smile can still achieve that goal despite having lost teeth if they turn to implant dentistry.
When implants are placed, a titanium base is surgically implanted into the jaw. It acts in the same manner as a tooth's root, and over time, the bone of the jaw begins to fuse to the titanium in a process known as osseointegration. This strengthens the implant and is one of the reasons patients can have their implants for a lifetime with little to no additional care required. It also counteracts common side effects of traditional dentures, including bone loss in the jaw, which begins to occur when the jaw is no longer stimulated by the root of a tooth. The titanium root offers enough stimulation to the bone to prevent this from occurring.
Following the implantation of the titanium base, an abutment piece is placed on top and a crown is connected to the abutment to finish the tooth. Patients in Dallas, TX who would like to learn how dental implants can help them on their quest for self-improvement can contact Dr. Neeley's office to set up a consultation.
About the Doctor
Michael Neeley, DDS, PA, is a general dentist offering personalized dental care for Dallas, TX gum disease patients. Dr. Neeley is part of one percent of dental professionals providing the LANAP® FDA cleared laser procedure for gum disease and periodontal treatment. To learn more about Michael Neeley, DDS, PA, and his dental services visit his website at http://www.dallasdds.net and call (214) 306-9033.