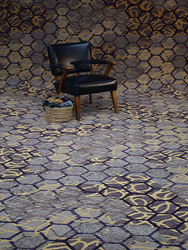 This carpet looks like it has gold in it - absolutely stunning!" Lacy Price, CM's Marketing Coordinator
Dalton, GA (PRWEB) October 02, 2014
CM Hospitality Carpets announced their release of their newest design collection. The Nordic Gallery Collection is composed of seven new patterns featuring the many different type textures and construction aspects that CM has to offer.
"The designs of the collection were inspired by the meeting point of modern and natural," says Laura Harvey, Design Director at CM. "Hard edges of geometry are balanced and calmed by luxurious textures and layering. The color palette of muted neutrals with contrasting, yet subtle, accents creates a balance between harmony and excitement and relates to the expression of color in nature."
These seven hospitality designs were inspired by the old Norwegian wood carvings and imagery. Each design features the simplistic geometric hexagon in various textures layered and softened by the curved script that is found in old Nordic carvings.
The warm gold and eggplant combination adds to the richness of the collection that were meant to reflect a glistening skyline at sunset. Nordic Gallery showcases CM's extensive construction capabilities in offering solution dyed patterns for public area, corridors and guestrooms applications.