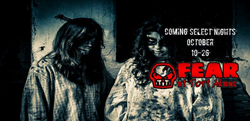 Going from paper to reality takes a lot of time and diligent effort.
Newport, RI (PRWEB) September 25, 2014
What makes a great nightmare? This thought crosses the minds of Fortress of Nightmares 'Scare Team members' on a daily basis once August rolls around. This year, take a journey behind the scenes and grab a sneak peek into what it takes.
Fortress of Nightmares Producer and Fort Adams Trust Board Member Dave Prata has spent the summer concocting the layout for this year. Prata recalls, "This is something I've been inspired to do since I was about 13. It's a funny story actually, because I was grounded that year for Halloween and decided to try and scare the trick-or-treaters coming to my house. It was one of my most memorable Halloweens and inspires me each year as we create Fortress of Nightmares."
"My favorite parts are hearing people scream from something as they walk through, and then laugh right after. That's how I know that my creative vision is both scary enough yet something you'll enjoy," Prata continues.
Construction for this annual haunt begins at the end of August each year, when Prata and his team spend hundreds of hours bringing the creative vision to life. "That's the hardest part, honestly. Going from paper to reality takes a lot of time and diligent effort. We can always use more volunteers to put everything together. We've learned quite a bit along the way, though. For example, do you know the best recipe for fake blood? Karo syrup, corn starch, powdered cocoa and water. It doesn't taste bad, either!"
Fortress of Nightmares, which is adopting the name 'FEAR at Fort Adams,' gives guests a unique view of the Fort. Director of Visitor Experience Rob McCormack notes, "I love this time of year because we get to change things up. It's great to get reactions from people who are seeing parts of the Fort they have never seen before. Even more, the Fort takes on a new personality at night, which not many people get to see."
"We recommend this Halloween attraction for children ages 12+ and adults. Use caution with any pre-existing medical conditions, prepare for quite a bit of walking, and dress for the weather," adds McCormack.
Fortress of Nightmares has become a staple in Newport for the Halloween season. For general information and tickets go to fear.fortadams.org.
About the Fort Adams Trust
The Fort Adams Trust is a 501 (c)(3) non-profit responsible for preservation, programming, and promoting the National Historic Landmarks in Fort Adams State Park in Newport, Rhode Island. Over 100,000 people tour the Fort and attend events in the Park annually.The Trust accepts donations to support its preservation and programming missions.
http://www.FortAdams.org
About Newport, Rhode Island
Newport, often called the City by the Sea, is also referred to as "New England's second global city." In addition to the incredible historic destinations and cultural activities, great restaurants and shops, and unrivaled scenic beauty, there is a cosmopolitan sophistication to the City. International visitors abound and you can hear multiple languages on the streets. http://www.discovernewport.org