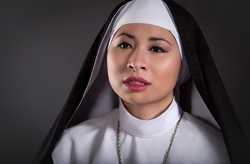 " I desperately wanted to see a production where the possibilities in Puccini's score are realized, and where the central character emerges not as a victim, but as a heroine."
Vancouver, BC (PRWEB) September 24, 2014
Opera Mariposa, an acclaimed company for emerging artists, will launch its third season with a powerful new interpretation of Puccini's 'Suor Angelica.' The re-imagined opera will be presented alongside a concert of Italian opera highlights at Marpole United Church on October 17, 18, 24 and 25 at 7:30 pm, and will star acclaimed and award-winning artists from across North America. Tickets start at $15 and are available at operamariposa.com or by calling Brown Paper Tickets' 24/7 event concierges at 1-800-838-3006.
Puccini considered 'Suor Angelica' his finest opera, yet it remains less well-known than his other works such as 'Tosca,' 'Madama Butterfly' and 'La Bohème.' In an innovative decision, Opera Mariposa has entrusted visionary 25-year-old director Sergio Augusto Flores with the task of re-imagining 'Suor Angelica,' putting the spotlight on Puccini's timeless music and reinterpreting it for audiences of the new millennium.
"When I heard that Opera Mariposa was considering 'Suor Angelica,' I immediately knew I wanted to be involved," says Flores, who is also known to Lower Mainland audiences as an acclaimed opera singer. "As a director, I can only work on a project if it really speaks to me, and I felt like this opera had such incredible potential. The music is truly transcendent, and in many cases I feel like a traditional staging doesn't do it justice. I desperately wanted to see a production where the possibilities in Puccini's score are realized, and where the central character emerges not as a victim, but as a heroine."
"Sergio had such a clear and passionate vision for the opera; we realized that he could bring something uniquely meaningful to our production," says Opera Mariposa's managing director Robin Eder-Warren. "More than that though, what convinced us was the fact that he didn't want to change the opera just to make it 'new' or 'different.' Instead, he wanted to create something that explored the characters and themes more deeply, and in fact, sought to be more true to the emotions and nuances of Puccini's music."
'Suor Angelica' will be conducted by music director Campbell McLeod, and features award-winning sopranos Jacqueline Ko and Sarah Templeton in the title role. Other notable emerging artists include soprano Alexa Jarvis, an award-winner from the Metropolitan Opera National Council Auditions; soprano Amy Steggles, a national finalist in the Canadian Music Competition; and soprano Stephanie Miles, who performed with multiplatinum singer Josh Groban in his 'Straight to You' tour in 2012.
-30-
EDITOR'S NOTE: High-resolution photos are available. If you would like to interview Sergio Augusto Flores or any of the performers, email Robin Eder-Warren at operamariposa(at)gmail(dot)com or call her at 778-918-9498. Opera Mariposa artists are also available to perform an aria in-studio, as a way to provide you with a unique angle for covering Opera Mariposa's third season debut, Puccini's Suor Angelica.
Suor Angelica by Giacomo Puccini
Oct. 17, 18, 24 & 25, 2014 at 7:30 p.m.
Marpole United Church, 1296 West 67th Avenue, Vancouver
Tickets $22 | $18 students/seniors | $15 groups (4+ people) at the door, at operamariposa.com or from Brown Paper Tickets at 1-800-838-3006
The show in brief: Opera Mariposa presents Puccini's compelling tale of loss and redemption, reimagined by director Sergio Augusto Flores and featuring acclaimed and award-winning artists from across North America. Centred on the story of Sister Angelica, a reserved nun who hides an unbearable secret, this groundbreaking production features a powerful new interpretation along with the timeless, transcendent music of what Puccini considered his finest opera.
About Opera Mariposa (http://www.operamariposa.com): Opera Mariposa is a critically acclaimed opera company run by young artists, for young artists. Now embarking on their third season, the Vancouver, BC-based company is dedicated to creating a stage for emerging talent, showcasing North America's most promising performers in a diverse program of gala concerts, original shows and fully staged opera productions. The Vancouver Project recently declared that "Opera Mariposa stands at the forefront of Vancouver's opera scene," and Mariposa's productions have been hailed as "a stroke of genius" (The Voice) for their ability to engage both dedicated opera lovers and new audiences.
About Brown Paper Tickets (http://www.brownpapertickets.com): Brown Paper Tickets is a socially conscious global leader in online ticketing and event registration services, helping people in 68 countries plan, promote and sell out events. As a social innovator, the company donates 5 percent of profits to charity with every ticket sold, supports a team of full-time community advocates, called "Doers," and still charges the lowest fee for ticketing and services in the ticketing industry. In 2014, Brown Paper Tickets was rated #1 for ticketing and event registration by http://www.FindTheBest.com, and #1 in customer service for the performing arts by Bay Area Dance Watch. The company will open its newest office in New York, N.Y. this summer. To learn more about the world's only Not-Just-For-Profit ticketing company, visit http://community.brownpapertickets.com/press/.