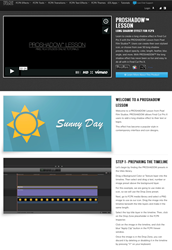 ProMation gives professionals a fun way to create keyframe-less animations with their media
Aliso Viejo, California (PRWEB) September 28, 2014
Motion graphics artists at Pixel Film Studios have announced the release of a new tutorial for the ProMation plugin, designed exclusively for Final Cut Pro X.
"ProMation gives professionals a fun way to create keyframe-less animations with their media," said Christina Austin, CEO of Pixel Film Studios. "A professional editor is one who maximizes workload while saving time; tools like ProMation gives the editor the right tool to get the job done quickly."
Learn how to make keyframe-less animations in Final Cut Pro X with the ProMation Lesson from Pixel Film Studios. With ProMation, users can easily animate pictures, videos, logos, and text without heavy editing. Simply choose the intro and outro animations desired using simple drop down menus.
ProMation allows Final Cut Pro X users to create keyframe-less animations with their media. Users can simply place one of the presets over their video, logo, or text; set the start and end points; and choose their animation type. ProMation will do the rest.
Final Cut Pro X editors will be instructed to select a clip or image in the FCPX media library and drag media to the timeline. For example if the user selects a logo PNG, drops it into the timeline, then searches through the FCPX titles library, the option to select ProMation presets will be available. Browse through the animation movements and select the desired preset that best matches the look of the project. Click and drag an adjustment layer above the clip in the timeline and make it the same length. Now that the timeline is setup, position the animation anchor points and media. Select the title layer in the timeline. The green guidelines indicate where the media will animate in from and the red guides indicate where the image will leave. Grab the On-Screen control pucks in the Viewer window to position these guides.
Next, use the center point and handle to position and rotate the media. And finally, click and drag the outer ring to scale the image. When finished with this step, uncheck the Guides checkbox in the FCPX Inspector window to hide them. Once the anchor points are in place, setup the animation. In the Intro Animation section, use the drop down menu to choose the desired move in animation. Users can also scrub the timeline to preview each option. Once the animation type is selected, use the Speed slider to adjust how fast the media will appear. When finished, repeat this step with the Outro animation.
Established in 2006, Aliso Viejo, California-based Pixel Film Studios is an innovative developer of visual effects tools for the post-production and broadcast community. Their products are integrated with popular non-linear editing and compositing products from Apple FCPX. All Apple, the Apple logo, Mac OS X, and Macintosh are registered trademarks of Apple Inc. in the U.S. and/or other countries. All other trademarks and trade names are the property of their respective owners.